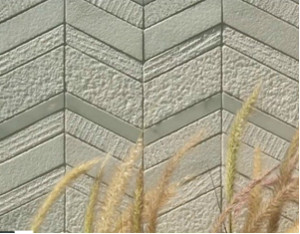 Walker Zanger's new Shift collection of limestone and marble tiles alters stone's surface and its reaction to light shifts the material's appearance.
"As its name implies, Shift can change our perception of stone, just as the look of the stone itself shifts in rhythm with changing ambiance and lighting," said Walker Zanger vice president of design and marketing Jared Becker. "With its fusion of modern design and traditional stone-working techniques, Shift can conform to a seamless palette; or provide a dynamic and ever-changing personality thanks to the way light plays upon its varied textures."
Shift complements a variety of design styles, including modern, traditional, contemporary and transitional. It's a perfect fit for kitchens and bathrooms and ideal for feature walls and other surfaces in restaurant and hospitality settings.
The new collection is available in a variety of patterns, including honed, sandblasted, hammered and raked finishes. These surfaces are arranged via mesh-mounted mosaic patterns, including Chevron Mosaic, Brick Mosaic and Stripe Mosaic. It's also available in 3-by-8-inch field tiles in blast, hammer and rake finishes.
The entire collection is available in four colors, including cream, grey, moss and white. Shift is available immediately at all 15 Walker Zanger showrooms and authorized dealers nationwide.