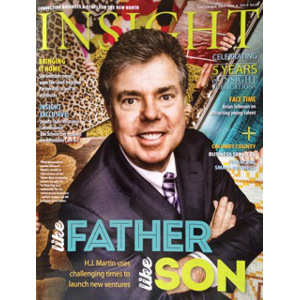 H.J. Martin and Son is featured as the cover story of the December 2013 issue of Insight, the preeminent business magazine in Northeast Wisconsin.
Writer Sharon Verbeten chronicles the company's growth from its 1931 start, when Henry John Martin sold paint and tile out of his Maple Street basement, to today, when it has become the nation's largest interior and specialty contractor. Verbeten highlights the work H.J. Martin now does for major national retailers such as J.C. Penney, Target, Best Buy, Menards and Macy's.
Verbeten points out that the company, under the current leadership of father and son Edward and David Martin, has not lost sight of its roots in spite of the fact that H.J. Martin is on track to exceed $100 million in sales for fiscal 2013.