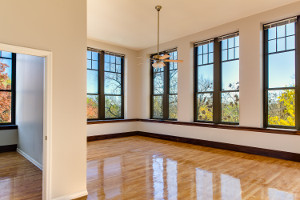 Shaw Industries recently joined the Make It Right Foundation to cut the ribbon on the Foundation's latest project, the Bancroft School Apartments in Kansas City's Manheim Park neighborhood for which Shaw donated flooring including its Cradle-to-Cradle certified carpet and Epic engineered hardwood among other flooring types, to cover 50 homes and common areas. The apartment complex achieved LEED Platinum certification. 
This latest collaboration represents the company's continued partnership with the Foundation, a relationship that began with Shaw's commitment to donate flooring for all 150 homes in the Foundation's New Orleans' Lower 9th Ward rebuilding endeavor after Hurricane Katrina.
"We're proud to continue our partnership with Make It Right, building upon our initial work together in New Orleans with this latest project in Kansas City," said Paul Murray, vice president of sustainability and environmental affairs at Shaw Industries, the world's largest manufacturer of carpet and a leading floor covering provider. "Make It Right's efforts to create affordable, high-performance, well-designed homes is not only in alignment with our focus on Cradle to Cradle in our manufacturing and flooring product design, but with our corporate vision to create a better future." 
Built in 1904 and abandoned and boarded up for more than 13 years, Bancroft School reopened to provide residents with 50 LEED Platinum rental units and community amenities, including an auditorium, gym, computer lab and gardens. These affordable units in a city that has struggled with high unemployment and crime rates were created to serve people in need, including disabled veterans, youth transitioning out of foster care, senior citizens and low-income families.
"As a fellow Missourian, it brings me great pride that Make It Right can be of service in my home state," said Brad Pitt, Make It Right's founder. "This beautiful building will provide housing for many people in need. We also hope it serves as a catalyst for new life and new investment in the community of Manheim Park."
Shaw, which has been a partner of Make It Right since it was established in December 2007, embraces a mission to give back to the communities it serves.