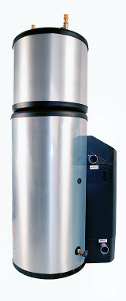 Warmboard has launched the Total Warmth System.
This newly designed system includes Warmsource, a simplified, elegantly engineered radiant heat solution that includes tubing, manifolds and a water heater, providing consumers with a one-stop shop for their radiant heating needs. Ideally suited for installations under 3000 square feet, the Total Warmth System offers an integrated solution to provide ample heating and zones for any home while significantly decreasing installation costs of radiant heat systems.
Terry Alsberg, CEO of Warmboard, explains, "In many ways, the radiant heat industry has been its own worst enemy when it comes to high premiums and complex product installations. As a leader in this industry, it was important for Warmboard propel the industry forward and change the way we all do business, hence the innovation behind the Total Warmth Systems which features Warmsource. Homeowners, contractors and architects will no longer need to deal with multiple vendors to integrate radiant heat into their projects."
In addition, the Total Warmth System includes a custom wireless thermostat. This user-friendly, touch-screen thermostat can be installed throughout a customer's home to easily control each zone. Unlike the installation of typical thermostats which is cumbersome, the wireless thermostat solution will dramatically reduce installation time and cost. 
Alsberg continues, "Our goal with the Total Warmth System is to make radiant heat more accessible to a larger consumer audience. Radiant heat is an extremely energy-efficient heating solution that can reduce energy costs by 30% for the typical installation."
Warmboard's Total Warmth System's energy-efficient design allows consumers to heat their homes using lower water temperatures and less energy.  Moreover, the advanced zoning capabilities of the system allows consumers to heat each room in their home as they see fit—eliminating the need to heat unoccupied areas in the home.