Spirer Purchases Max Windsor Floors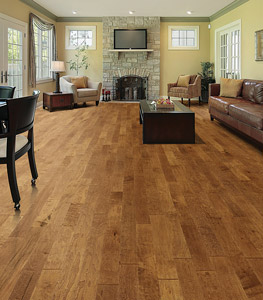 Max Windsor has been known for its high style wood floors and with industry veteran Peter Spirer now in charge retailers can expect even more of this as he has a long-standing reputation for innovative product styling and marketing.
Adairsville, Ga.— Industry veteran and Hall of Famer Peter Spirer, along with two colleagues have purchased hardwood flooring supplier, Max Windsor Floors.
The new company, the Max Windsor Group, will be headquartered here with distribution remaining at the company's Commerce, Calif., facility, and will continue to do business as Max Windsor Floors.
Spirer said, "Max Windsor is an exceptional brand in the hardwood sector with a uniquely beautiful line of products and a sterling reputation and customer list which reads like the who's who of flooring retailers."
Spirer, whose industry career spans six decades will serve as CEO of the Max Windsor Group. Other officers and key managers of the company include David Cicchinelli, vice president of marketing; Adrian Van Raalten, vice president, western region; Brian Wang, vice president of operations, and Amanda Abercrombie, eastern operations manager.
Over the course of his career Spirer has long been recognized for his innovative approach to product style and marketing flair. In discussing some of the plans he has for the company moving forward, Spirer said, "We will devise programs to reinforce our commitment to specialty retailers. Our intention is to be the retailer's most profitable line of wood products. We don't offer our line to Lumber Liquidators or big boxes, and we don't sell to Internet dealers. The neighborhood specialty store is Max Windsor's future; we know who's running him out of business, and we will make it a point to see him prosper, at least in the hardwood sector."
For more information, call (877) 773-1580.
Florida Tile Celebrates 60 Years of Innovation
Lexington, Ky.—Sixty years ago, Florida Tile began operations out of a small building in Lakeland, Fle. Today, it is recognized as one of the Top 5 tile brands in the U.S. To help celebrate its diamond anniversary the company recently kicked-off its 60th anniversary celebration.
"Few companies survive to celebrate 60 years," said Sean Cilona, Florida Tile's marketing director. "Florida Tile has not only survived, it has thrived by remaining loyal to its core values of innovation and service,"
In 2006, Florida Tile was purchased by Italy's Panariagroup, one of the industry's leading companies with products distributed in over 100 countries.
Shortly after the acquisition, Florida Tile, which is now headquartered in Lexington, opened a porcelain tile manufacturing plant in nearby Lawrenceburg, Ky., with a $25 million investment from Panariagroup. That plant now operates three full time shifts 24 hours a day, and is capable of producing very large-sized, through-body porcelain tile.
To help commemorate this milestone, Florida tile developed a special 60th anniversary logo and a year-long advertising and merchandising campaign.
"We will continue to build our U.S. brand on innovation in technology and design, and, of course in service all along the retail chain," Cilona concluded. "We have a lot to talk about in this, our anniversary year."
For more information, call (800) 352-8453 or visit floridatile.com.
In Memoriam:
Henry Rothberg
Henry M. Rothberg
Bethany, Conn.— Henry Rothberg, founder and chairman emeritus of Laticrete International passed away. He was 91.
While working as a young man in his family's South Carolina floor covering installation business, Rothberg realized there must be a better way to install ceramic tile. With a background in science and a degree in chemical engineering from the University of South Carolina, he began investigating how synthetic latex technologies could be applied to the concrete industry.
Rothberg started Laticrete International in 1956 with a latex thin-set additive simply known as Laticrete. For the first time a strong, weather and shock-resistant thin-bed mortar could be mixed on-site using equal parts of sand and cement—replacing thick, heavy and labor-intensive mortar bed installations, which had been traditional since ancient times.
He started the company with his wife Lillian, who worked as its bookkeeper. Over the years the company, with Rothberg's guidance, created numerious innovative products, services and marketing and, as a result, Laticrete became a global company with a reputation for quality and service. Rothberg ran the organization until 2001 when he became chairman emeritus, ceding leadership to his sons Henry and David.
"We are all deeply saddened by the loss of our father and founder," said David, chairman and CEO of the company. "He was not only our wonderful dad, but also a trailblazing innovator for our industry and an inspiring leader for the employees and associates of Laticrete worldwide."
Henry, who serves as senior vice president of training, added Rothberg's "innovations and impact on the tile, stone and concrete industries are still felt today. His developments have left us an incredible legacy and have changed the course of an entire industry by revolutionizing tile and stone installation techniques."
Among the many honorary awards presented to Rothberg are the Carl V. Cesery Award (Tile Contractors Association of America), the Joe A. Tarver Award for Lifetime Service to the Tile Industry (National Tile Contractors Association) and induction to the Ceramic Tile Distributors Association (CTDA) Hall of Fame.
Rothberg is survived by his wife Lillian and their children, Irene, Henry, Deborah, Celia, Jonathan, Michael and David, as well as 19 grandchildren and four great grandchildren.
In lieu of flowers, the family requests donations be made to either the University of South Carolina Department of Chemical Engineering, 301 Main St., Columbia, SC 29208, or the American Technion Society, 55 E. 59th St, New York, NY 10022.
Dixie Acquires Atlas
Chattanooga, Tenn.— The Dixie Group has acquired Atlas Carpet Mills, which is headquarted in Saybrook, Calif. The aggregate purchase price of the deal was reported to be approximately $17.5 million, and included assumption of certain outstanding purchase orders of Atlas, the payoff of existing debt, and a cash payment.
Kennedy Frierson, Dixie's COO, said Atlas will operate as a separate brand within the Dixie portfolio, noting, the company "has a very strong sales force and excellent brand equity in the market place, which should maximize our opportunities for growth."
He added, "This strong market position has been created by the superior design and styling of its product offerings."
As such, Atlas' Saybrook tufting, coating, inspection and shipping operations will continue normal operations. In addition, there will be no change to the administrative, product development and sales functions of the company.
However, Atlas' dyeing operations will be consolidated into Dixie's Susan Street facility located in Santa Ana, Calif. Frierson said "many of the associates who now work in the Atlas dye facility will transfer to the expanded Santa Ana operation. We believe there are significant synergies from the consolidation of the two dye houses and utilization of other Dixie assets."
With Atlas remaining as an independent brand, Jim Horwich, the company's founder will stay on as its president, reporting to Frierson. In addition, Mark Nestler, executive vice president and Scott Price, vice president of manufacturing will continue in their respective roles at Atlas.
The sale should push Dixie's sales over the $400 million mark by the end of 2014 as Atlas, which offers both broadloom and modular carpet had sales of approximately $53 million in 2013. Meanwhile, Dixie reported its 2013 sales at just over $345 million.