Hanley Wood Prepares for TISE East
Dallas—Hanley Wood Exhibitions is gearing up for the launch of The International Surface Event East (TISE East), taking place Oct. 19 to 22 at the Miami Beach Convention Center.
TISE East, which will encompass three shows, Surfaces, StonExpo/Marmomacc Americas and TileExpo, will give attendees the opportunity to attend over 50 educational sessions, on-floor demos, networking events, certification programs, off-site tours and view thousands of products, tools and technology on display in two exhibit halls, according to show officials.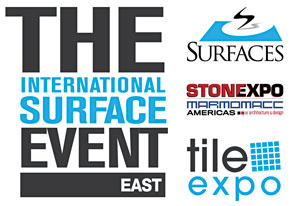 "Our partners have been requesting a fall show for several years and with the economic recovery clearly under way, we are confident TISE East will attract a brand new audience which will translate into new business for exhibitors," said Dana Teague, Hanley Wood's vice president. "The industry has become accustomed to manufacturers introducing products at the January show. TISE East will give buyers the chance to evaluate which new products are performing and allow them to adjust their inventories and merchandising strategy accordingly."
In response to a demand for continuing education and industry certification, she explained TISE East show hours have been adjusted so attendees can take advantage of an education program that includes over 50 educational sessions targeted to specific audience segments—architect, builder, designer, retailer, fabricator, installer, distributor and care/maintenance/restoration. A large number of sessions will qualify for continuing education credits.
Teague said Walk & Talk sessions will utilize the exhibit hall as a classroom, allowing attendees to gain perspective from industry experts with three different areas of emphasis—Equipment & Tooling, Luxury Trendspotting Floorcovering and In Our Green Shoes: An Eco-Agenda.
"Our goal since we began working with our partners, sponsors and endorsers on planning TISE East has been to create a unique trade show experience that allows attendees to take full advantage of educational offerings, certifications and networking in addition to the exhibits," she noted. "We will continue to invest in offering top-notch educational programming as our research indicates ongoing education is critical to maintaining a competitive advantage for both buyers and sellers."
For more information, call (866) 550-6808 or visit tiseeast.com.
Johnson Elected WFCA's Chairman
Anaheim, Calif. —Paul Johnson, president of Interiors One, Carpet One in Tulsa, Okla., has been elected chairman of the World Floor Covering Association (WFCA). He replaces Janice Clifton of Abbey Carpets in Napa, Calif., who became immediate past chairwoman.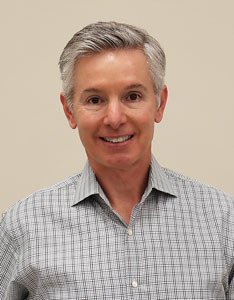 Paul Johnson
Johnson's career in flooring spans more than 35 years. He got his start at Thomas Parker Furniture in Laurinburg, N.C., during 1978. His accounting skills made him a standout at the home/flooring store. While working on the financial side of the business, Johnson recognized through invoices he was making $4 dollars per hour while the carpet installers were making $40,000 a year. For Johnson, the next step on his professional path was obvious.
Seeing there was money to be made in flooring installation, Johnson quickly aligned himself with local installers and within a few months co-founded a sub-contractor installation business, which he sold to his partner before entering the next phase of his career.
Following college he took a position selling Armstrong resilient for distributor JJ Haines Co. in Goldsboro, N.C. In 1983, he joined the manufacturing side of the business with Philadelphia Carpet in Tulsa, Okla. Johnson was then hired by World Carpets as regional vice president. He continued his professional growth on the manufacturing side until 1998, when he bought his own store in Tulsa.
Interiors One, Carpet One is comprised of six units including four Carpet One Floor & Home stores and two Floor Trader stores. The company's employees stay knowledgeable through a full-time instructor/trainer and monthly training sessions, as well as classes through Carpet One University. Johnson attributes much of his success to his commitment to educating himself on every touch-point and a solid understanding of the industry at every level from the ground up.
Johnson joined the WFCA when he entered the retail side of the business, and has held a number of positions including secretary and CFO. In addition he served on the Industry Relations Committee.
"As many of you know, we recently changed our focus from the entire flooring industry to the 'heart' of the industry—its retailers" said Johnson. "Without them we do not exist. WFCA brings all these family-run businesses together and gives them a voice, a platform and the power to make a difference…far beyond what individuals could do on their own."
Johnson said he plans to make this "the year of the family business," noting the association has "exciting programs and initiatives in place that I have no doubt will attract new members and help take the organization to new heights."
For more information, call (714) 978-6440 or visit wfca-pro.org.
Gammonley Appointed NAFCD Executive Director
Chicago—Kevin Gammonley has been appointed executive director of the North American Association of Floor Covering Distributors (NAFCD), replacing Michelle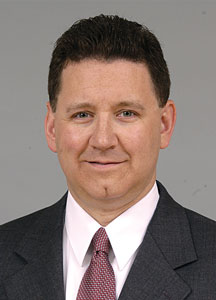 Kevin Gammonley
Miller who left the organization to pursue a new professional opportunity. Gammonley has been serving as the interim executive director since April and has a long-standing relationship with NAFCD's board through the organization's management firm.
"We have known Kevin for several years and have seen first-hand how he can bring enhanced value to NAFCD," said Craig Folven of Herregan Distributors and NAFCD's president.
Gammonley brings to NAFCD 23 years of experience running trade associations including several other wholesale distributor-oriented organizations.
"Implementation of the recently revised strategic plan, which includes enhancements to the annual convention and the overall NAFCD value proposition, as well as finding new ways to advocate on behalf of the wholesale distributor in the channel are among my immediate priorities," he said.
For more information, call (312) 673-6962 or visit nafcd.org.
Shaw to Recycle PET
Ringgold, Ga.—Shaw Industries announced it will invest $17 million at its facility previously known as Plant 37 here that will give the company the ability to recycle various types of broadloom, including those made from polyester (PET) and its cousin, PTT.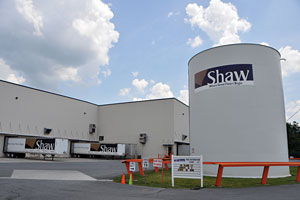 Shaw's Plant 37 in Ringgold, Ga., is being converted into a state-of-the-art recycling center capable of handling nylon 6 and 6,6, and PET and PTT using a patent-pending technology.
Called Evergreen Ringgold (Editor's note: The company has a nylon 6 recycling facility in Evergreen, Ga., known simply as Evergreen), Paul Murray, Shaw's vice president of sustainability and environmental affairs, said the new facility will be operational in the second half of next year and will also create 70 new full-time jobs.
"Evergreen Ringgold is capable of recycling broadloom manufactured from nylon 6 and 6,6, and PET and PTT," he told Floor Trends. While PET will not be recycled into new carpet, "our commitment to the circular economy strives to keep products in the economy as long as possible—in some cases this means recycling carpet back into carpet, in other cases there is higher value in the recycled material going to another industry."
Murray added Evergreen Ringgold will use a patent-pending technology which allows Shaw to increase its ability to recycle multiple carpet types, noting it is designed to take back the company's ClearTouch polyester as well as PET from other manufacturers. "As the facility becomes operational, we will continually evaluate the appropriate product mix based on the needs of the market."
Since 2006, Shaw has recycled more than 700 million pounds of carpet via its take-back program, which includes both broadloom and carpet tile.
He added, "Evergreen Ringgold expands our efforts to keep end-of-use carpet out of landfills. By expanding our recycling portfolio, we are illustrating our continued commitment to converting something that historically may have been seen as waste into a resource that has a longer life in the economy."
As Shaw's portfolio of recycling investments continues to expand, Murray said so does its portfolio of Cradle to Cradle certified products, pointing out that currently 64% of the products the company sells are Cradle to Cradle certified, and Shaw has committed to 100% of its products being designed to Cradle to Cradle protocols by 2030.
Plant 37 was part of Shaw's recently closed rug business in Ringgold, which also included Plant 44/64 that is being converted into a LVT manufacturing facility. Evergreen Ringgold is an additional $17 million investment separate from the $100 million being invested for the LVT operation.
For more information call (800) 441-7429 or visit shawfloors.com.
Invista Recognizes American Carpet Milestone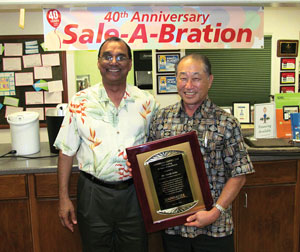 Pami Bhullar, left, Invista's director of retail development, presented David Arita, president of American Carpet One, with the fiber supplier's Stainmaster Ambassador Award.
Oahu, Hawaii—American Carpet One, a Stainmaster Flooring Center (SFC), was the recipient of Invista's Stainmaster Ambassador Award in honor of the retailer's 40th anniversary.
"[American Carpet One's] longevity is a testament to understanding consumers' expectations of receiving superior products delivered through an easy-to-understand process by supportive and responsive retail associates," said Maggie Bidlingmaier, vice president, retail channel for Stainmaster brand.
As the first SFC in Hawaii, and only one in Oahu, David Arita, American Carpet One's president, said Invista enhances the retailer's offerings with its broad range of products. "We have Stainmaster carpet to suit every customer's need, style and budget."
Pami Bhullar, Invista's director of retail development, presented the award to Arita. "I have been coming to American Carpet One since 2000. [This] award represents a team effort of demonstrated hard work and commitment to superior customer service. Arita and his team provide value to their customers by building trust and sharing knowledge to help consumers make informed decisions about the best flooring to meet their needs."
For more information, call (770) 792-4221 or visit invista.com.
Surya's Expansion to Bring 200 Jobs to Georgia
Calhoun. Ga.—Surya's plan to build a corporate office and distribution facility in Cartersville, Ga., is expected to add more than 200 new jobs to the north Georgia area, noted Satya Tiwari, president. From this $33 million facility, the manufacturer will consolidate shipping and distribution for its multi-category product offerings, creating an efficient logistics base and increased operational flexibility.
He said the new 1 million-square-foot facility will include 50,000 square-feet of office space and serve as the company's U.S. headquarters. "During the past several years, we have launched a number of new categories, resulting in significant revenue growth along with a corresponding increase in our employee base and warehouse capacity. At our core, we are focused on providing the best service possible to our designer and retailer customers, and this new facility will not only enable us to optimally serve our growing customer base, but will also offer an inspiring and creative workspace for our employees."
Recognized by Inc. Magazineas one of America's fastest-growing, privately held companies in 2011, 2012 and 2013, Surya has grown from $2.7 million in sales in 2004 to $80 million this year.
Surya is expected to break ground on the new building this month.
For more information, call (877) 275-7847 or visit surya.com.
Consumers Vote Dover Rug & Home No. 1
Natick, Mass.—Dover Rug & Home received the Wicked Local Readers Choice Awards as the "No.1 choice for Carpet/Flooring Store" in Natick category; the Silver Award for the region in the same category and Honorable Mention for Home Decorating Store.
"This is the 12th year we've received the Readers Choice Awards, and it is still thrilling to be recognized in this way," said Mahmud Jafri, Dover's CEO. "We have always been proud of our extensive and unique flooring options along with our commitment to providing the best service to everyone who walks through our showroom door, and to be recognized for this is truly an honor."
Over 400,000 Wicked Local GateHouse Media local community newspaper readers and online voters participated in the annual Readers Choice Awards competition in over 75 categories.
"These awards have always been especially important to us because they come straight from the people we value most—our customers," said Jafri.
For more information, call (508) 651-3500 or visit doverrug.com.