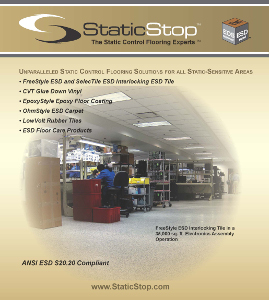 SelecTech has introduced a new ESD ring binder, displaying the company's full range of ESD flooring products.
SelecTech's new ESD ring binder, which displays the company's full range of ESD flooring products, including sample swatches and technical literature.
According to the company, the binder features static control flooring products offered exclusively by Static Stop, including Freestyle ESD – an adhesive-free, patented interlocking ESD vinyl tile that can be easily installed, easily removed and is fully sustainable. The binder also displays traditional ESD vinyl tile, ESD carpet tile, ESD rubber and ESD epoxy flooring.
"Even though computers have been a fixture in workplaces in America for the past three decades, using ESD flooring that minimizes harmful static electricity in an office, telecom or data processing environment is a fairly new thing," said Thomas Ricciardelli, president of SelecTech. "In fact, many of the people we have here at SelecTech worked on ESD flooring in the earliest days, so while this binder may be a marketing piece, it really is more like a Wikipedia for anyone who uses or is considering ESD flooring."
ESD products featured in the binder include: FreeStyle ESD and SelecTile ESD Interlocking ESD Tile; CVT Glue Down Vinyl; EpoxyStyle Epoxy Floor Coating; OhmStyle ESD Carpet; LowVolte Rubber Tiles; and ESD Floor Care products.
SelecTech's Freesyle ESD flooring products employ interlocking technology that reduces installation times, bypassing the need for adhesives and floor prep to install or replace flooring, according to the company. "In many cases Freestyle ESD can be installed directly over the old floor," said Ricciardelli. "Because machinery does not have to be completely moved or removed for installation, downtime  and businesses interruption  is significantly minimized or even eliminated altogether." 
In addition to being made largely from recycled materials , SelecTech's ESD flooring products are 100% recyclable, according to the company. When installed, these ESD flooring materials create a static-controlled environment that's ideal for facilities utilizing sensitive electronics and preserving valuable data like electronics manufacturing, communications, aerospace, biotech, healthcare industries and other high-tech industries.
To request a copy of SelecTech's ESD binder, call 508-583-3200 or visit selectechinc.com.