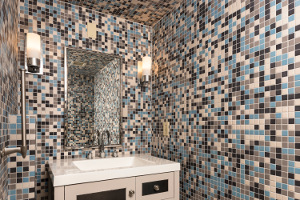 Tec products were used to help create a home-away-from-home for the families at the Kansas City Ronald McDonald House.
Tec products were used to renovate the Kansas City, Kan. Ronald McDonald House.
According to the organization, Ronald McDonald House Charities aims to provide a "home-away-from-home" for families with seriously ill or injured children.
"For more than 30 years, the Ronald McDonald House in Kansas City has supported families going through difficult times by providing a place for them to stay and unwind while their children receive medical care in nearby hospitals," said an organization representative. On an average night, Ronald McDonald House Charities of Kansas City serves 67 families. For families supporting their kids in uncertain and sometimes scary health situations, a place to recharge provides comfort and joy. Ronald McDonald House Charities of Kansas City strives to cultivate a warm, welcoming environment and promote a sense of community.
To provide additional space for its guests, Sporting Kansas City, a Major League Soccer (MLS) team, partnered with MLS Works to sponsor the Ronald McDonald House renovation. Jennifer Bertrand, the season three winner of HGTV's "Design Star" whose family has received services from a Ronald McDonald House in New York, designed the space. Drawing from her own experiences as a designer, a mother and a guest of a Ronald McDonald House, Bertrand used thoughtful planning and atmospheric details like lighting, finishes and seating area arrangements to create a loving and supportive environment. Using donated materials, labor and furnishings, the space was converted from an outdated storage area to a unique place of respite and entertainment for visiting families, with cheerful decorations, televisions and video game systems.
Flooring contractor Interior Surface donated time to renovate two bathrooms at the Ronald McDonald House, where they used Tec products to install brightly-colored 1-by-1 inch mosaic tiles. The tiles, in blues, creams and browns that match Sporting Kansas City's uniforms, stick to the restrooms' walls, ceilings and floors with Tec Full Flex mortar. According to the company, Full Flex features one-step mixing and smooth spreadability—that helped installers secure the hundreds of tiles used in the bathrooms.
"We transformed the restrooms from dull and outdated to cheerful and bright—helping create a positive space for the families of the Ronald McDonald House, " said Don Planinshek, tile division project manager for Interior Surface
According to the company, Tec Power Grout Ultimate Performance Grout is ready for foot traffic in just four hours. Its fast-curing universal formula was used on both the walls and floors of the bathrooms. In addition, it doesn't require sealing, which cut down on labor hours. 
With more than 5,000 families expected to use the space, the Ronald McDonald House required high-performance setting materials. Both Full Flex and Power Grout are rated for residential to heavy commercial applications, and the highly stain-resistant formula of Power Grout also resists cracking, shrinking, mold and mildew—even in wet conditions like those in restrooms. The installation was capped off with Tec AccuColor Siliconized Unsanded Acrylic Caulk, which forms a tough, flexible, water-resistant seal over the mosaic installation to protect it from moisture.
For more information, visit tecspecialty.com.