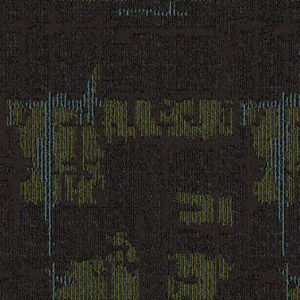 Stacked Up from Mannington Commercial's new tx:style Perspectives Collection.
Mannington Commercial's new tx:style Perspectives Collection, designed in collaboration with Paul Lewandowski of SMRT and designer Katie Henry, interprets abstract organic shapes in structured layers of pattern.
Lewandowski's pattern, Coastal Rocks, was inspired by the striated basaltic rock, flora, fauna, and colors found along the Maine coastline. "I work with clients in the education, healthcare and corporate markets, and it's quite clear that organic patterns are a great fit," he said. "I am also a big fan of stripes, but striped flooring is often too graphic for many applications. Coastal Rocks is an organic stripe, drawing from how  rocky outcrops and tide pools form patterns, and how the living organisms that grow on them create additional layers."
Stacked Up, the pattern designed by Katie Henry, complements Coastal Rocks. Starting with the natural and handmade shapes formed by stacked stones, Henry translated the forms into abstracted layers. 
The colors for the collection are a combination of neutral and pop colors that work together—and were selected with particular emphasis on their use of natural inspirations to create surprisingly complex combinations. 
Antron Lumena fiber and Mannington construction unite to create a low maintenance, high durability carpet, engineered to retain color and texture, according to the company. Mannington's Colorsafe bleach warranty, Xguard stain warranty and other lifetime warranties apply. 
For more information, visit mannington.com.