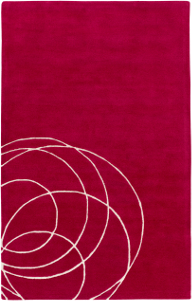 New from Surya's Bobby Berk Home line of rugs and coordinating pillows.
Surya is set to introduce a line of rugs and coordinating pillows from home furnishings and decor brand Bobby Berk Home at the Fall High Point Market in High Point, N.C., Oct. 18 to 23. Epitomizing minimalist urban luxury and featuring Bobby Berk Home's signature mix of bold colors and modern design, the spirited collections reflect a stylish and youthful spirit well matched to laid-back lifestyles, according to the company.
Debut collections include Mod Pop—hand-tufted of wool with carved details, these hip rugs feature retro designs reminiscent of the '70s brought to life with bright pops of color and bold graphic patterns; and Solid Bold—fun and a touch of whimsy rule in this collection of hand-tufted cut pile and loop wool rugs with classic minimal forms and clean lines that take the floor in both vibrant hues and grounded neutrals.
"I wanted to create a line of rugs for people like me who love color, but find it hard to locate great rugs with minimal or cool patterns," said Berk, founder and creative director of Bobby Berk Home. "My collection for Surya marries simple patterns with amazing colors that bring life to a room without overwhelming the space, all while providing affordable options that don't sacrifice quality or style." 
According to Berk, the Bobby Berk brand has been named one of the top rising design brands in the country and Berk's retail locations regularly make the list of top furniture/design stores in the cities in which they are located. 
"Bobby Berk's youthful design aesthetic and fresh mix of urban-focused styles are a perfect complement to Surya's existing collections as we continue to expand our offerings to meet the needs of a diverse range of lifestyles and budgets," said Satya Tiwari, president, Surya. "We are excited to work with a designer like Bobby who not only brings great design to the forefront but is truly passionate about what he does." 
Berk added, "When I was ready to partner with a brand to design my first rug collection, Surya was really the only option in my mind. Having gotten to know the company and its team over the last few years, I've learned it 'just gets it.' Surya's dedication to quality and service and incredible drive are impressive to say the least and I couldn't be more excited to see this partnership grow." 
Market attendees are invited to explore the new line at Surya's flagship showroom, Showplace 4100, which will be open daily during market from 8 a.m. to 8 p.m.
For more information, visit surya.com.