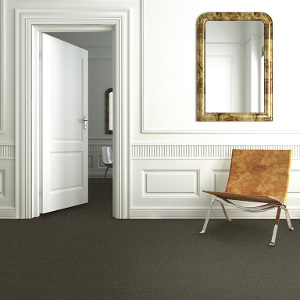 Mannington Commercial partnered with designer Mary Bledsoe for the Basic Tee collection.
Mannington Commercial has collaborated with designer Mary Bledsoe for the new Basic Tee collection.
"Basic Tee is part of a family of collections called Stylist, inspired by wardrobing in the fashion world," said Natalie Jones, Mannington's Vice President—Commercial Brand and Creative Product. "Basic Tee, our first Stylist introduction, is a classic foundational piece that comes in warm and cool neutrals, with unexpected accent colors."
Stylist was created to include products that range from simple to high impact patterns, so designers can mix and match to suit their project. Basic Tee is a subtle exploration of texture that brings luxury in both broadloom and modular. 
Engineered with Mannington's reputation for durability and performance, Basic Tee is constructed of Antron Lumena 6,6 premium nylon to create a low maintenance, high durability carpet. It features a lifetime warranty for edge ravel and delamination, staining and wear.