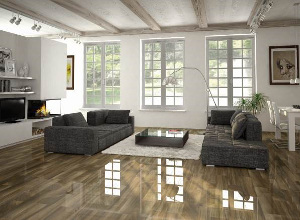 Bright tiles are a trend that will be showcased at Cevisama.
According to show organizers, during Cevisama, which will be held Feb. 9 to 13 in Valencia, Spain, attendees will get a close look at the new styles and innovations proposed by Tile of Spain ceramic tile manufacturers and the floor and wall ceramic collections exhibited at the show will mark the trends this year.
The broad themes that marked the design of ceramic tiles in recent years remain, but with upgrades imposed by the decorative demands of the times—innovative formats in size and thickness, more sober and essential colors, rustic-elegant combinations, mix designs and a resurgence of classical pieces. Ultimately a whole spectrum of trends that run from rustic to refined.
Styles featured at Cevisama will include:
Monochromatics
Use of color as an element of continuity between walls and floors, able to create a homogeneous scenario that helps to highlight the presence of other elements of decor and furnishings. Essential, sober and stone pieces in dark tones, usually with a subtle matte finish and discolorations provide a sense of time and naturalness.
Subtle Decorations and Accents
Following the same theme of monochromatic looks, ceramic tile collections introduced are subtly decorated, without great contrasts, to break the uniformity between floor and wall tile. The details, almost blurred, appear randomly placed, to create a harmonious rhythm and a personal touch.
Interpretations of nature
Ceramic tiles reinterpret nature faithfully and offer the largest collections of contemporary wood like materials. Tile leaves the original wood to mutate in a multitude of colors in various graphics which are able to convey the feeling of living space, with all the advantages of the durability of ceramics.   
Brights 
Superbright tiles that make spaces look sophisticated and elegant, while amplifying the space with light.  
Endless decorations
The wide range of decorations and accent pieces featuring Spanish tiles will once again see delicate florals, abstract patterns and geometric motifs.
Square Mosaics 
A lot of small pieces of mosaic tile in different shades of the same color range and finished in gloss and matte finishes join to form waves that create a wonderful optical illusion. This tendency to give extra volume to mosaics results in luxurious pieces that enrich the outcome of any project.  
Mix & Match
The most traditional ceramic tiles, usually soft and delicate colors, are mixed in the most original way (materials, textures, colors, shapes, or graphic patterns) without losing their natural appeal.