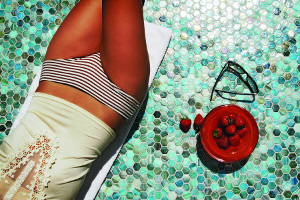 Lunada Bay's new Agate Hexagon has been added to its Agate Glass collection.
Lunada Bay Tile has added Agate Hexagon to its Agate Glass collection.
Appreciating the value of the hexagon to modern interior design, Lunada Bay Tile has reinterpreted the shape with colorful Agate glass. Evocative of the semi-precious stone found in volcanic formations, the banding of Agate tiles visually combines the solidarity of stone, the fluidity of water and the translucency of air to create a visual.
"Classic tile patterns like the hexagon have enjoyed a resurgence in popularity because of their timelessness," said Feras Irikat, director of design and marketing for Lunada Bay. "Yet, at the same time, designers and consumers are looking for a new take on this classic shape—one that will feel current and new. To this end, we updated the hexagon by presenting it in a more modern material—glass—and in a palette that is elegant and multifaceted."
Suitable for either horizontal or vertical surfaces, and wet or dry locations, Lunada Bay's glass tiles are durable and easy to clean, according to Irikat. Agate glass tiles contain up to 70% post-consumer recycled glass, making them a sustainable choice.
The Agate Hexagon tiles are available in 15 colors and two finishes, providing a variety of color combinations.
For more information, visit lunadabaytile.com.