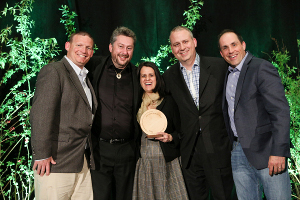 Mohawk Group received the Manufacturing Visionary Award from the IFLI. From left: Mohawk's Robert Marshall, IFLI's Jason McLennan, and Mohawk's Rochelle Routman, Michel Vermette and Kent Clauson.
Mohawk Group has received the first Manufacturing Visionary Award from the International Living Future Institute (ILFI).
According to the Institute, Mohawk Group was recognized for its commitment to ILFI's mission, as well as leadership in the manufacture of products that contribute to a healthy environment. Mohawk Group currently has 18 Declare labels that cover the majority of its commercial offerings. Declare labels provide a clear ingredients list for building products and a quick assessment of whether the product is free of red list materials, helping customers easily and confidently make conscious, informed decisions when specifying products.
"We recognize Mohawk for being the first company to have Declare labels across all of its soft surface product lines, promoting the message of transparency and responsible formulation to all design firms and clients across the nation," said Jason McLennan, ILFI's CEO. "Mohawk is a powerful partner in our efforts to create a Living Future, showing leadership and commitment to our core message in many critical ways."
According to McLennan, ILFI is growing in influence, and now administers three initiatives including the Living Building Challenge, the Living Community Challenge and the Living Product Challenge. Over the past two years, Mohawk Group has been working side by side with ILFI to spread its message.
"We are eliminating red list ingredients in our products and providing detailed product information to our customers so they can make confident, healthy choices," said Michel Vermette, president of Mohawk Group commercial and international. "Together with the Institute, we are working towards the goal of creating inspiring and healthy interiors."
According to Vermette, Mohawk Group has embarked on its own Living Building Challenge project. The company is working on petal recognition for a design studio located in Dalton.
For more information, visit MohawkGroup.com.