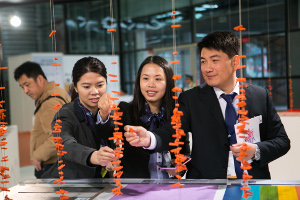 Domotex asia/ChinaFloor (DACF) attendees in the show's InnovAction Flooring Center. DACF officials report this year's show saw a record number of attendees.
Domotex asia/ChinaFloor (DACF), held at the Shanghai New International Exhibition Center in China, attracted a record 46,115 visitors, featured 1,275 exhibitors from 38 nations, and occupied over 1,506,900 square feet of display space spread across 12 exhibition halls, according to show officials.
"The international presence at the show was evident from that fact 289 of the 1,275 exhibitors came from outside China," said a show representative. "Among their number were companies like Balta, Oriental Weavers, Alsorayi, Armstrong, Gerflor, Krono Flooring, Kronotex, Beaulieu, Egger, Berry Alloc and Witex. There were also national pavilions from Afghanistan, Belgium, Germany, India, Iran, the Netherlands, Nepal, Pakistan and U.S. Also 11,374 of the visitors came from places other than China—principally from other countries in Asia. Impressively, over 60% of the exhibition space was rebooked on the spot for next year—a sure sign of exhibitor satisfaction with the fair and the business opportunities it opened up."
DACF's InnovAction Flooring platform enabled exhibitors to profile their product innovations online to pre-registered visitors ahead of the show. According to show officials, 18,706 visitors used the platform's online feedback system to vote for their 10 favorite products in the parquet and laminate flooring, carpets and resilient floor coverings categories.
A jury assessed the products and selected the seven best for inclusion in the InnovAction Flooring Center—a dedicated on-site display area at DACF. The winning products were "Back to Nature with Bamboo" by Dasso Industrial Group, "Source-Nature" by Weihai Shanhua Carpet Group, "Aurora" by Newspec, "Carol Land" by Suzhou Duolaiyun Houseware, "BIO +STYListic" by Gerflor, "Symphony in Colors" by Novalis Innovative Flooring and "Infinity" by Star-living.
Another major highlight of the various on-site forums and special events held in conjunction with this year's DACF was the China International Wood-Plastics-Composites (WPC) Development Forum. Highlights included presentations on the latest developments in WPC by Bryan Fairbanks, executive director of Trex and Takeyasu Kikuchi, CEO of WPC Corp.
Other special events included the Wooden Integrated Products Area—a new showcase on wooden products for interior home furnishing that made its debut this year; the Floor Heating Installation Show; the Handmade Carpet Salon; and the Sports Experience Arena.
For more information, visit dacf.cn.