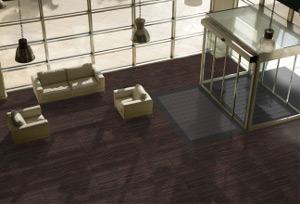 Milliken has expanded its Obex entryway solutions with Quadrus.
Milliken has expanded its Obex entryway solutions with Quadrus, a modular floor covering system for safe and effective building entryways, according to the company.
Engineered for zone 3 indoor entryway applications where moisture absorption is critical to protect against elements that post safety hazards, Quadrus combines textile construction with ComfortPlus cushion backing. Dual-fiber Milliken WearOn nylon yarn and an open textile construction trap dirt and moisture, while allowing easy removal during maintenance, according to the company. The modular format enhances installation flexibility and ease of maintenance, as individual tiles can be lifted for cleaning or replacement.
Two products—Quadrus and Quadrus Brush—provide various levels of performance and scraping effects for the ideal balance of design and function, according to the company. Quadrus Brush, the most aggressive construction, can also be installed in zone 2 entryway applications when architectural environments do not allow for grid systems. 
"Building owners and facility managers are challenged to keep facilities clean and safe while optimizing their ever-shrinking maintenance budget," said Donald Hooper, regional manager, commercial entry systems for Milliken's floor covering division. "Quadrus greatly expands options to create a beautiful, durable and safe entryway while keeping performance top of mind.
For more information, visit milliken.com.