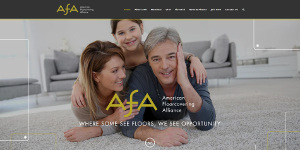 The American Floorcovering Alliance (AFA) has updated its website.
The American Floorcovering Alliance's (AFA) website has been revamped with a new look, user-friendly navigation and updated industry content.
"The site allows for online visitors to quickly and easily access association information, membership benefits, trade show information, a current member listing and the latest in flooring industry news," said Wanda Ellis, AFA's executive director.
According to Ellis, the updated site is more informative with a clean, concise main navigation and a new section on the Council of Flooring Industry Advisors (CFIA). AFA membership is listed alphabetically and can be sorted by product category—providing a quick guide to each company's offerings, contact information and a direct link to their web site. The news and photos section will contain press releases, articles and photographs reviewing AFA events, along with newly released information from the association membership.
For more information, visit americanfloor.org.