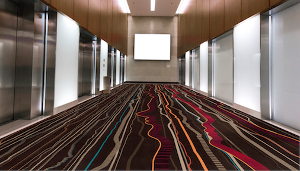 Milliken's new Identity One collection explores human form.
The Identity One collection from Milliken explores the dichotomy between our true similarities and how subtle differences impel us to create and form a unique identity—and therefore, a unique space, according to the company.
"As with human beings, spaces carry an identity. The subtle differences are what make it memorable and identifiable," said Tracy Francis, customer experience manager for Milliken's hospitality market initiatives. "Although the initial designs within Identity One are the same, how a designer manipulates various features will determine how identifiable a space becomes for them, the client and guests who inhabit the space."
The collection features two products—Latent and Profiles. Latent illustrates the distinct curve of line and fine texture created by the human fingerprint. With Latent, designers explored various scales, textures and colors: all interchangeable to create many combinations and possibilities within each design. Profiles reveals similarities found in the facial profile when scaled back to the simplest shape and outline. A combination of large and small scales, and the ability to create tonal gradients with bold and subtle colors, offers design flexibility.