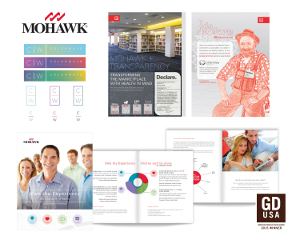 Mohawk's internal design team received four American Inhouse Design Awards.
Mohawk Flooring's in-house design team has received four accolades from the American Inhouse Design Awards.
The awards, sponsored by Graphic Design USA and The Creative Group, reflect the creativity and talent of Mohawk's internal design team, who help shape the aesthetic and effectiveness of Mohawk's logos, brochures, point-of-purchase materials, ads and general marketing pieces created every year. 
"Our team approaches each project with a fresh perspective," said Brennan Swing, Mohawk's senior manager of creative media. "As in-house designers, we also have the privilege of bringing years of brand knowledge and experience to the table."
Mohawk's four awards were won for a range of design initiatives, which included the company's "I DO Declare ad;" the multi-purpose "Solutions brochure;" the "ColorWave logo" and the company's "Transparency ad."
"Our creative team continually challenges the norm and seeks new ways of visually communicating our stories," added Swing. "Doing so not only keeps Mohawk on the leading edge, but enables us to produce point-of sale materials, e-books and digital ads that get our retailers noticed." 
For more information, visit mohawkflooring.com.