Mohawk hosted Solutions 2017 at the Gaylord Texan Resort in Grapevine, Texas, December 8-10, 2016, providing Mohawk dealers with new products, solutions and tools to help them take their business to the next level.
"Today we're a $9 billion operation on the Fortune 500 and the largest floor covering company in the world," said Jeffrey Lorberbaum, CEO of Mohawk Industries. "This year in 2016, we grew $1 billion in revenues. That alone would have made us one of the top five flooring companies in the world. We've become a global business, which means we can leverage innovation from the around the world and bring them to you with better products and superior value. Since 2013, Mohawk has invested more than $500 million in new products, expanded capacity and in increased efficiencies. Next year, we will invest another $750 million in those same facilities without any acquisitions of which we hope to find a few."
The event opened with a performance by TellAvision, as seen on the show America's Got Talent, introducing dealers to the notion that they can fast forward their business through technology and innovation.
Mohawk president Brian Carson contends that during the economic downturn retailers spent too much time focusing on getting feet in the door, and a lot of dealers forgot how to maximize the sale once the consumer was inside. "That's a huge opportunity right there," Carson said. "One-hit wonders are not enough. You have to have an engaging product experience. Innovative products and styling along with word-class marketing and merchandising, both in-store and online. It's all of these elements together that creates the innovative and immersive product experience. That X-plus experience."
Multi-Channel Marketing 
One of the immersive, technological innovations Mohawk introduced is Omnify, an integrated digital marketing tool that is designed to connect the online, in-store and product experiences for consumers.
"Omnify is an integrated solution that links the retailer's online and physical stores, giving consumers decision simplicity and increasing the likelihood of purchase from Mohawk aligned retailers," said Karen Mendelsohn, senior vice president of marketing. "The whole idea is to provide a seamless purchase journey that makes it easy for consumers to learn, compare, trust and decide to purchase our products from aligned retailers."
Retailers pay a monthly fee to participate in the program, which brings together all of the digital applications and activities retailers are managing today across multiple platforms. By connecting the activities through Omnify, Mendelsohn said retailers have a simple way to manage people, content, marketing campaigns and results.
Through various components, Mendelsohn said Omnify aims to improves retailers' social reach with enhanced content syndication and automation to capture and converse with new audiences while building brand recognition and loyalty. It tailors the retailer's digital storefront to engage consumers, promote enhanced content and offer an elevated online retail experience. The system builds the local reputation of retailers through ratings and reviews to gain consumer loyalty and improve search rankings, attracts new customers and simplifies the purchasing decision by offering product catalogs. The solution also aims to increase store visibility and improves search rankings with managed local listing services to guarantee consumers can find Mohawk's aligned retailers.
"Omnify will help to integrate many of the important social search, reputation management, website, lead management and retailer locator applications that are so critical to creating quality leads and driving traffic to our local retailers," Mendelsohn added.
Hard Surfaces
Mohawk's biggest launch in hard surfaces was SolidTech luxury vinyl tile (LVT), Mohawk's version of a rigid LVT.
"We decided to create our own formula," said Tammy Brogan, Mohawk's director of brand, hard surface. "We heard from a lot of retailers that they were having a lot of issues, some with the waterproof story. They were finding the products were not waterproof. The water could get in between the planks and get down into the subfloor which could cause a lot of problems. The second issue was the stability of the product. Once they would lay it, it would react to environmental changes. If you installed it under windows where sunlight would come through, you would potentially get peeling and cupping and delamination."
SolidTech's engineering allows it to be installed at all angles, and Uniclic technology allows for do-it-yourself installation. The advanced locking system also creates an impenetrable lock between planks that makes SolidTech floors waterproof, odor-free and easy to clean, according to Brogan. The planks look and feel like real hardwood and they are 50% denser than average composite core flooring, so SolidTech planks will not telegraph visual imperfections of the underlying surface. SolidTech planks also resist scratches, scuffs and indentation and maintain dimensional stability under heat and extreme temperature change, according Brogan.
To market the launch, Mohawk signed social media darling Doug the Pug as the face of SolidTech. The partnership is intended to illustrate how SolidTech's technological innovations can handle the everyday challenges of active pets. Doug has more than 4.5 million likes on Facebook, more than 2 million followers on Instagram and more than 5 million YouTube video views.
"Doug the Pug's appeal will help us deliver our message to the extremely valuable pet-owner market, ranging from the older demographic to today's media savvy, socially connected millennial shopper," Brogan said.
In the hardwood category, Mohawk focused on new easy-care finishes. The four new collections—Vintage Vintique, Weathered Vision, Modern Vision and Costal Impressions—collections are enhanced with TruFinish, an ultra-low hardwood finish innovation that emulates the elegant beauty of an oil-finished floor, without the time-consuming maintenance that traditional oil finishes require.
Four new laminate collections draw inspiration from natural wood featuring color palettes with high shade variations. Painted Charm highlights a clean, modern look popular on the coasts using creams, white and gray tones in a glazed and painted style. Reclaimed Spirit introduces an industrial and reclaimed look with subtle distressing. Wooded Vision emulates the look of reclaimed barn wood combined with a slight industrial edge, and Artistic Creation features high shade variation and saw-cut distressing that gives the oak look a lot of visual texture.
Available in tile and plank formats for multiple design options, Mohawk's premium vinyl flooring is engineered to provide the deeper texture and embossing of more expensive authentic hardwood, but with greater durability. Three new collections feature a durable, protective top layer that resists scratches, dents and stains and is ideal for the lifestyle of busy families. Mohawk luxury vinyl is also water-resistant, so it works for any room, Brogan said.
Lastly, Mohawk's new 2017 tile collections consist of visuals ranging from the rustic wood looks to natural stone. Design trends are growing in tile with the demand for more linear planks instead of traditional square-sized tiles, Brogan said. Mohawk's newest tile collections feature sizes such as 12" x 24" and 6½" x 38", along with a variety of shapes and sizes in the Accent Statements collection.
"Our newest collections consist of the popular styling of longer, linear plank designs, an array of finish options and high-end color palettes featuring shades of blue and gray to offer a very upscale lavish feel," Brogan added.
Soft Surfaces
Mohawk also launched innovation on the soft surface side of the business with the introduction of Airo carpet.
"Airo is not just an improvement to an existing product line; it represents an entirely new category of soft floorcovering," said Seth Arnold, Mohawk's senior director of brand, soft surface. "Retailers continually tell us their number one challenge when it comes to growing their business is related to labor. With Airo, we have reduced the install time by 25% and eliminated 100% of the complexity. This gives retailers remarkable flexibility with labor crews and has the potential to dramatically increase their productivity and grow their top line sales."
Airo features a simple, two-part design unified by a single polymer. The 100% PET fiber is constructed on a premium cushioned backing using an innovative, tension-free process. This creates a dimensionally-stable floor, which will not wrinkle or delaminate and is easy and fast to install. Airo requires no additional cushion, no tack-strip at edges to snag socks and no power stretching or seaming iron. It is also soft and flexible, which makes it easier to handle, according to Arnold.
"We've eliminated many tricky installation steps, reducing hours and equipment needed during the actual installation process," Arnold said. "Airo Unified Soft Flooring is a better installation from start to finish, which means fewer complaints or callbacks for retailers."
Mohawk also showcased SmartStrand Silk Reserve, which Arnold says features new levels of softness, stain resistance, wear resistance and pet protection.
For 2017, Karastan's new broadloom selections focus on fashion, multitone palettes and easy living with soft, stain-resistant fibers. "New looks will answer the increasing consumer demand for high-style patterns in beautiful multitone colors," said Bill Storey, senior vice president, Karastan. "These new carpets have crisp, clean finishes and feature color palettes that will coordinate with popular wood, stone and granite colors with gray and taupe overtones. Also, look for blue as an emerging color in home fashion. Overall, the 2017 introductions provide a variety of decorating options for consumers and more avenues to sales for our retailers."
Mohawk's introduction of SmartStrand Silk Reserve carpet is all about a higher level of softness, maximum durability and easy maintenance, according to Arnold. To market the product, Mohawk teamed up with Max the Rhino at the Birmingham Zoo in Alabama. For the challenge, Mohawk installed two carpets—SmartStrand Silk Reserve and a competitive premium soft nylon—in Max's enclosure. For two weeks, the 5,400-pound rhinoceros lived in messy luxury and did what rhinos like to do: roll in the mud, eat, pee, poop and stomp. After a thorough professional cleaning, Arnold said the nylon soft carpet showed signs of matting, crushing and stains. The SmartStrand Silk Reserve, however, released stains and remained beautiful, proving SmartStrand's durability and stain resistance.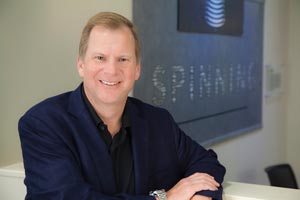 Brian Carson, president of Mohawk Flooring
Sidebar: Brian Carson on Market Opportunities
Since, we've been recovering, and from 2009 to 2016, the market has been growing steadily and we are back to a $21-billion-a-year market with a lot more growth ahead of us. A lot of businesses didn't make it through the other side. You all did, and we did, and we did that together. We made it, and we're going to be okay. We're going to be a lot more than okay because this improved market is going to be with us for quite a while.
Here's the biggest piece of good news out there: There's never been more pent-up demand for flooring than there is right now. Consumers have waited a long time to afford upgrades and invest in their houses. And with low debt, higher consumer confidence and more income, they are in a better positon now than ever. That's wonderful news for all of us.
As for the millennials, most of them want the homes and American dream just like we did. They are just starting off on this journey five to seven years later than the previous generation. There's a lot more news to the market. While the market is back to about the same size it used to be, it's way more fragmented than it ever was before. Think back 20 years ago. Laminate wasn't really around. Engineered wood was barely around. Wood plastic composite (WPC), LVT, glass sheet vinyl, porcelain tile, ceramic planks, patterned carpet…Smart Strand carpet…All of these products are major product categories today that are competing in a market that is about the same size as it what it used to be.
So, now the focus for all of us has to be about how to dive in and increase share in all the products and how to be excellent in all the products. To be able to capture the customer, to trade her up and to close the sale. If all of this wasn't challenging enough, the internet and social media has created a whole new shopping and certainly a whole new research experience. The opportunity is there right in front of us. So is the challenge. The real question is, how are you going to adapt your business to deal with all of these market changes?
What good is innovation if you don't use it to cut through the noise? The noise out there in the market today to be seen by the consumer and then to have her attention long enough to be heard, to have her take the time to visit your store and to be exceptional in that store experience can sell a higher quality product at a higher margin. That's how you bring innovation to your bottom line.