Although he is no longer in the floor covering business, Evan Hackel will always be a bona fide flooring guy. He was the fifth employee of CCA Global, serving in a range of senior management positions for 20 years. Now he is CEO of Tortal Training, a training development company, and the founder and principal of the consulting firm Ingage Consulting. We had an opportunity to sit down with Evan recently and the following are excerpts from that conversation. You can listen to this conversation in its entirety below.

TalkFloor: I suspect that over the most recent year, most retailers have had reasonably good sales. Looking forward, however, tougher times may await most of us, presenting an interesting situation for retailers. What recommendations would you have for retailers?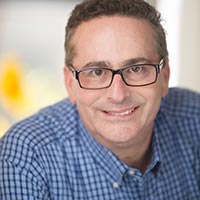 Hackel: I actually look at downturns as huge opportunities to gain market share. Typically, in a downturn, retailers tuck in their heads and focus on survival. They stop spending money on advertising and upgrading their showrooms and cut back on employees. That means for those that are more aggressive, it becomes easier and cheaper for them to grow their businesses. If competitors are not buying ad space or using Facebook or pay per click, the cost for clicks and for advertising goes down. There are fewer people attempting to take market share.
There is still a tremendous amount of business and unless you are a very, very large company with dominant market share in a market, it's easy to gain market share and grow your company. 
Retailers need to look at this as an opportunity to find new installers, because competitors will not have work for many of their installers. As a result, retailers have an opportunity to hire and grow their installer base, as well as an opportunity to find better salespeople. It is also a great time to look at going into other segments. 
If things are a bit slower and you do not do builder work or light or heavy commercial work, this slowdown can present an opportunity to expand in other areas. I have always believed that having a growth mindset is extremely healthy. 
The other thing I would say is that the income generated from every customer should be maximized. Retailers always want to improve their closing rates through selling skills and improved margins, which are the exact opposite of what most retailers do in slower times. They normally cut prices. But if you can do better merchandising and raise margins, it is amazing how much impact those activities will have on your bottom line. Remember that if you cut your pricing by 10%, you will be reducing your margins dramatically. The amount of business you need to make up for that is staggering. However, if you raise your prices and improve your margin, you can make more money even if sales are down 20% or 30%. That will result in more income than if you keep your margins where they were and you have a drop in business. 

TalkFloor: So you can improve profits, even if you do not add new customers, or only a small number? 
Hackel: Yes. The problem with good times—the curse of good times—in fact, is that you are so busy just holding on that is often difficult to take the time to improve your business. But when things get a little slower, you have an opportunity to improve the business. In the last few years, retailers have been looking extremely hard to find good installation. Now there is an opportunity. 
I have always been a strong believer in employee installers, not subcontractors. I know a lot of people are going to say, "No, that is terrible." But it is not. I have done the math and executed the plan. It should cost no more to have employee installers than subcontractors. And I think it is a myth that every installer wants to be on their own. I do not think that is the case at all. Installers are just like most other people who enjoy having a steady paycheck. You can justify training your own employee installers. If you do, you will have longevity and loyalty, and you can engage employee installers to train apprentices and the people supporting them. It is a great opportunity to grow your installation base. 
Down times present a great opportunity to grow your business. If you do not grow in retail, go into Main Street commercial, hard commercial, or builder work. Look at every avenue to add new kinds of business because your competitors are. Then once the economy turns around, you will have added a division to your company. 

TalkFloor: Do you see having more employee-installers becoming a trend? 
Hackel: I am going to make this statement: Businesses who own installation will own the floor covering business. Manufacturers are working as hard as they can to make products that are more and more DIY. The benefit is that they become less dependent on installation. The fact of the matter, however, is that DIY is the death of retail floor covering, because as soon as DIY takes place with the majority of products, the need for professional installation goes away and the big box stores will win because they will compete on price. There is not going to be value perceived by others for your services because they are going to be doing it themselves. Having quality installation is important and differentiating that installation and guaranteeing it are especially critical. 
Every retailer has the ability to control and grow their installation team. The key is finding and training individuals who are interested in being in the trade. People can make a very good living in installation. And retailers that are dependent on subcontractors will risk losing installers. And that is not a way to ensure your business into the future. 

TalkFloor: It would seem like marketing quality installation would be a good way to gain share? 
Hackel: I think so. For certain products and customers, offering installation makes an extremely significant difference. Yes, certain customers want to do it themselves. But some people, including more affluent customers, are not going to want to do the installation themselves.
I think as a retail floor covering businessperson, I want that to be a strength of my business. I want to have control over my ability to install product. Over the last few years, this issue has held back flooring companies from growing more. 

TalkFloor: It seems to me that there are several basics that gain market share: having unique, new, and different products; using new and different ways to communicate with existing customers; as well as communicating with new and different potential customers. I am sure there are more, but those seem to be some of the basic ways. 
Hackel: There is no doubt that innovative new products excite customers and bring them into the store. When the economy goes down, that disproportionately impacts the lower end and the lower middle end of the business. Then the middle, high end, and luxury end are impacted next, because middle-high and luxury-end people are going to have money for floor covering, even in a down economy. 
Retailers sometimes underestimate the importance of having current customers buy. The saying in retail is: "Your next best customer is your last customer." That is true. You can develop a stronger relationship with your customer base, whether by email, private sale events, or a simple phone call asking them if they are still happy with their installation. Harvesting these customers for additional business referrals is especially important. No doubt, outstanding service and outstanding installation are critical to building a reputation. 
No doubt you have heard of Net Promoter Score. They say it is the clearest indicator of the future direction of a business, whether up or down. If you focus on wowing customers and making them excited, you are going to activate them and increase their level of enthusiasm and referrals. 
You want every customer to be thrilled with the process. And it is not that hard to thrill customers. It is a matter of having good communication, thanking them, and following up.
When I was very involved in floor covering, I noticed how afraid many retailers were of calling a customer after an installation, because they didn't want to hear a complaint. Well, if you really want to make customers happy, call them right after the installer left and say, "How did that job go?" 
And if there is a problem, get on top of it. If you call customers before they call you, they are going to give you plenty of time to fix any problem. But if you wait until they call you, they are upset and frustrated. 
Another major element is when the installer has completed a job, they should walk that customer through and let the customer note the details of the installation. The installer can say "Here's where we put the seams and oh, by the way, give them a couple of weeks and they're going to flatten out . . . it's just the nature of floor covering." And if there is an issue, the installer can fix it on the spot and can give the customer added confidence and satisfaction. 

TalkFloor: While some flooring retailers see only problems in the current climate, you see opportunities to grow. 
Hackel: Yes, I see great opportunities. If you train your current employees to install the products you sell and take steps to increase the loyalty and satisfaction of your current customers, I know you will see your success grow. Whether you see this as a downtime, or a time of recovery is not the real issue. Focusing on building your business is what matters.
Listen to the full interview!