CCA Global Partners Retail 2.0 merchandising and marketing program for independent flooring retailers is elevating the customer experience and shorting the time it takes for them to select the right product.
The new selling system is clean and inviting, presenting product in a way that makes sense for the customer after doing online research.
In January, the retail cooperative had 100 stores set up with wood-look and hard surface products and it continues to roll out the first 300 stores of hard and soft surface displays this spring. The system is branded "Room by Room" for Carpet One Floor & Home showrooms "Room to Explore" and Flooring America and Flooring Canada showrooms. 
"Consumers will react really well to the new system because it is simpler for them to shop. ... It's a faster, less stressful experience for them."
– Bill Doherty, owner, Emerald Coast Flooring America
Retailers are excited about the change it will make to their showrooms. "We spent six months remodeling our entire store and we decided to bump up our Retail 2.0 installation to the springtime," said Bill Doherty, owner of Emerald Coast Flooring America in Fort Walton Beach, Florida. "Consumers will react really well to the new system because it is simpler for them to shop. From what we've learned, it's just for them to find what they want. It's a faster, less stressful experience for them."
In the old display systems, customers gravitated toward certain appearances, certain colors, and in the old system, the retail sales associate had to take them to several different displays to help them figure out which flooring options would be the best for them.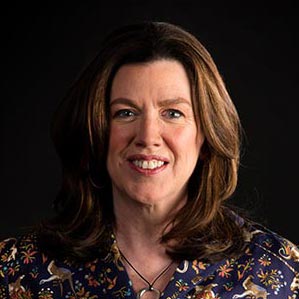 Everything is displayed by different styles and then by color, so it makes it easier for customers to find what they are looking for, said Theresa Fisher, senior vice president, visual merchandising and brand development, CCA Global Partners.
For retailers who want to customize their product selection for their region, CCA has created two displays—an island and double waterfall—to showcase niche products such as solid hardwood, hand-scraped hardwoods or waterproof solutions.
"We are creatures of habit. I get it—I am too, but that new decluttered open space on your showroom floor is welcomed by your customer," said Cathey Gundlach, vice president of retail merchandising, CCA Global Partners. "Now if you ask me, and allow me to add my personal favorite here, I think the islands make a much better presentation of a regional assortment."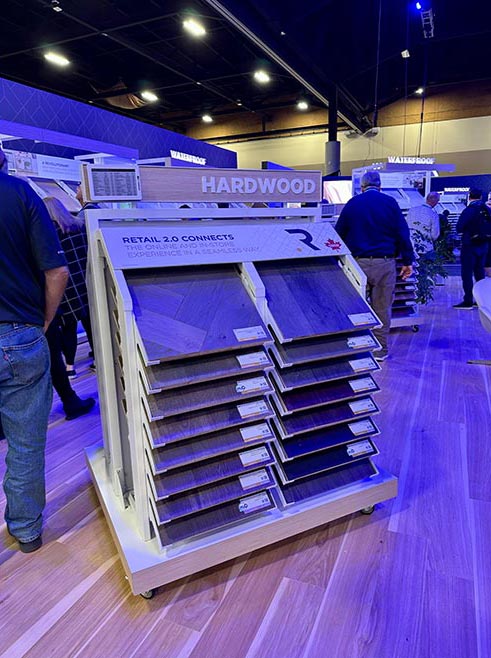 Gundlach said the island presentation has a much better story in the showroom of kind of a niche product for a marketplace: "These island displays are on those great rollers, so it gives you the flexibility to position within your showroom." 
While the new display formats are a change for retailers, they are also a change for manufacturers. 
"It's almost a bit of a culture change to the relationships we have with the vendors," said Charlie Dilks, chief product officer, CCA Global Partners. "Now we are buying in slots. The buyers are laser-focused on 390 hard surface SKUs and 268 carpet products, and that's going to make their job a lot easier."
For showrooms with a higher number of designer clients, the luxury department is vital for the showroom. The displays help retailers create a curated assortment from all the high-end luxury suppliers and combine them into maybe one or two of the universal displays on the showroom floor. 
On soft surface, suppliers been very proactive to put together several packages which range from 10 to 100 wing cards. 
"These cards will not be privately branded but will enable you to consolidate your mill brand displays into a universalist way that is very retail 2.0 family friendly," Gundlach added.