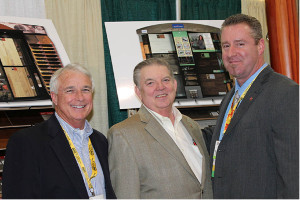 L to R: Randy Boothe (Quick-Step), John Anderson (BPI), 
Brett Nelson (BPI)
Quick-Step continues to report a high degree of success with its long-running model of bringing products to market exclusively through distributor partnerships.
"Quick-Step products are exclusively sold through a national network of the flooring industry's finest distributors," said Shane Calloway, vice president of North American independent distribution sales for Unilin, Quick-Step's parent company. "Distributor partnerships have been an extremely successful sales channel for our Quick-Step products. We plan to continue with this proven distribution channel."
The Added Value That Distributors Bring To Quick-Step's Supply Chain
"Effective distributor partnerships can be a key asset for a manufacturer," said Calloway. "The manufacturer is able to tap into all of the benefits inherent in the solid, in-depth relationships that a good distributor already has in place with local retailers.  The effective distributor also knows the tastes and needs of retailers and consumers in their area. Manufacturers are able to rely on their distributors to accurately advise which products will sell in their area and which won't."
"Another important aspect of selling product through distributors is the fact that a distributor holds product locally, allowing for quick-turns on orders," added Calloway.  "In recent years, this has been 
of particular importance, as retailers across the board were holding less inventory in response to the national economic environment. Quick-Step has found that our distributor partnerships are an effective and economical way to essentially have a network of satellite distribution centers nationwide."
What Quick-Step's Successful Manufacturer / Distributor Relationships Look Like
"The goal is always to have both the manufacturer and distributor each running at the top of their game independently, so when joined in partnership, they naturally become a formidable force in their region," said Calloway.  "As a manufacturer, Quick-Step offers distributors superior products, the right product mix, strong merchandising tools, low claims rates, quick-turn domestic production, and excellent customer service.  In turn, we expect our distributors to offer the same excellence in their respective activities."
"Our distributor sales reps are expected to work effectively with our retailers to ensure consumers take home the Quick-Step product that most accurately meets their needs," explains Calloway. "Because distributor reps truly become a direct extension of the manufacturer, good training is key. Quick-Step demands in-depth product knowledge from both our internal Quick-Step sales team members and our distributor partners, so the features and benefits messages regarding our products are appropriately communicated to the end-consumer shopping in the retail store.  Our internal sales reps and distributor partners spend the necessary amount of time jointly conducting product knowledge training for the in-store sales teams."  
What Quick-Step Looks For In A Distributor Partner
"We have continued to reap great results from our strong distributor partnerships," said Calloway. "Part of this success can be attributed to carefully partnering with the right distributors up front.  Quick-Step has been very careful to build a national network of only the finest distributors.  We partner only with distributors that are strong organizations, widely-respected for their reputations of integrity, quality, value, and service.  Only those distributor partners who will deliver customers in their region with exceptional service make the cut with us."
Longevity Of Relationships
The most recent winner of the Quick-Step Distributor of the Year Award was distributor partner Elias Wilf.  Elias Wilf is one of the country's leading independent wholesale distributors of fine floor covering products and the exclusive Quick-Step distributor in Maryland, Delaware, and eastern Pennsylvania as well as in portions of Virginia, West Virginia, and New Jersey.  Elias Wilf is just one of many long-term distributor partnerships that Quick-Step has in place.
"The Quick-Step / Elias Wilf partnership has been a strong, successful relationship for over 10 years," said Calloway. "Elias Wilf was one of the key distributors that originally helped establish the Quick-Step brand in the U.S. This distributor is a well-entrenched and knowledgeable player in the flooring industry. Having these types of long-running collaborations in place means that Quick-Step can continuously provide uninterrupted service to retailers and end consumers nationwide."