Q.E.P. Acquires Faus' North American Operations
By Matthew Spieler, Editor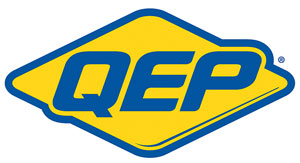 Logo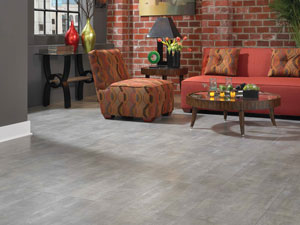 Based on customer feedback, Q.E.P. will be maintaining some of the more popular designs in the Fausfloor lineup, while expanding the offering to feature styles desired by North American consumers.
Boca Raton, Fla.—Q.E.P. Co. has added to its portfolio of brands with the purchase of Faus USA from its parent company, Industrias Auxiliares Faus, S.L.U., in Spain. The Spanish company, which is in bankruptcy was given court approval to enter into a stock purchase with Q.E.P to acquire all of the capital stock of Faus USA. As part of the deal Q.E.P. also purchased patents and other intellectual property applicable to the business.
The final purchase price was not announced. Jamie Clingan, Q.E.P.'s senior vice president of sales and marketing, told Floor Trendsthe company will disclose the price in its quarterly report which was due out shortly after the issue went to press.
Faus USA manufactures and distributes laminate flooring under the Fausfloor brand, and operates out of a 380,000 square foot manufacturing and distribution facility located on over 78 acres in Calhoun, Ga.
Clingan said Q.E.P. will be adding 25 employees from the manufacturing and distribution operation and will also be temporarily retaining two of Faus Spain's upper management personnel during the transistion and, once complete, they will return to the Spanish company.
Faus' sales and marketing efforts will be run from Q.E.P.'s corporate offices here, where it also oversees the company's various other brands such as Harris Wood, Roberts, Capitol, etc. In fact, the company overall markets more than 7,000 products. As such, Q.E.P. recently hired Jamann Stepp, formerly of Home Legend, to be its senior vice president of sales.
Lewis Gould, Q.E.P.'s chairman said, "The acquisition of Faus USA and its superior manufacturing facility in Calhoun, will allow us to offer our customers a line of high-end laminate products that compliment the Harris Wood line of engineered wood products as alternatives to existing imported products. These products provide customers with unique design choices and are all manufactured by American companies with American labor. In addition, we will [be able to] supply a full spectrum of accessories to our customers from a single source."
Faus has long been known for being an innovative company and is recognized by the laminate industry as a leader when it comes to incorporating patented technologies into the design of its floors—especially in the areas of surfacing texture and embossing, as well as the actual visuals.
"These technologies allow Faus to offer floors that are more durable, provide a level of quality and realism not attainable by other manufacturers and with the wide plank design are easier and faster to install," Gould noted.
Because Faus has licensed some of its patented technology to other manufacturers around the world, Clingan said any agreements made by the Spanish company that fall within the areas Q.E.P. has purchased rights to—North America—"will, of course, be honored," and then reviewed at the time of their expiration as to whether a new license agreement will be made.
In acquiring Faus USA, she said Q.E.P. plans to not only retain all of the laminate maker's customers, which include specialty flooring distributors as well as Home Depot, "we want to grow it to be a leading brand in the industry."
She added, "We've gotten nothing but positive feedback from distributors and dealers since we initially took over Faus' sales and marketing activities," In fact, at Surfaces, the company was getting feedback on product designs in anticipation for the sale.
"Within the next couple of weeks," Clingan explained, "our first move is going to bring out a consolidated package. We don't want to scare people with an overwhelming assortment."
She noted those dealers who carry the Fausfloor brand use a four-tower display that holds 56 products. "We want to give customers options so we're going to offer two- and three-tower packages, which will include new POP materials. So, essentially, we'll offer 28 and 42SKU lineups depending on the market area as some are doing better than others."
Clingan pointed out the designs will incorporate some best sellers as well as new styles that have been specifically designed for the U.S. and North American markets.
For more information about Q.E.P. and Faus, call (561) 994-5550 or visit qep.com.
Industry Q&A: All Tile's Weiss Discusses CCS Acquisition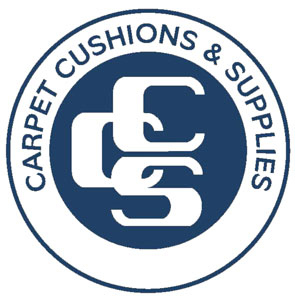 Logo

Logo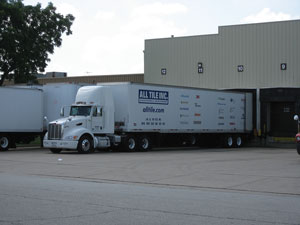 All Tile and CCS will continue to operate independently, meaning customers can still expect to see their respective reps and trucks from each company.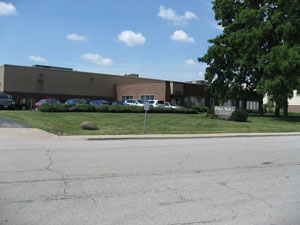 All Tile's Elk Grove Village, Ill., distribution center and headquarters is a massive complex having once been two buildings that are now connected.
Elk Grove Village, Ill.—Acquisitions are generally reserved for the end of the year as companies push to get them in for tax purposes, but 2014 has started off with a bang, at least at the distribution level. First, the industry's largest wholesaler, JJ Haines announced it was purchasing CMH Space, which was already considered to be the No. 2 flooring distributor in sales.
Shortly thereafter, All Holdings, the parent company of All Tile—another top industry distributor—announced it was purchasing Carpet Cushions & Supplies (CCS), giving them a combined capacity to make it a Top 5 wholesaler.
Both All Tile and CCS are in the Midwest, and combined they will service over 5,000 retail accounts through 22 facilities in 14 states with annual sales topping $150 million.
Floor Trends'editor Matthew Spieler caught up with Bob Weiss, CEO of All Holdings, and president and CEO of All Tile, to discuss the purchase, what it means for both companies and the industry, as well as if we are starting to see a new wave of consolidation at the wholesale level.
Q: How did this deal come about? Who approached whom?
A: The acquisition did not occur overnight. The concept of All Tile and CCS getting together has been in the making for over 10 years. It became more of a functional reality over the summer.
Q: What were the reasons/advantages behind aligning the two companies? What does CCS bring to the table that All Tile didn't have?
A: All Tile and CCS are very complimentary. One handles flooring products that are visible (All Tile), the other (CCS) handles products that are mostly under the surface, with the exception of Roppe. There is very little if any crossover of product offering outside of carpet pad. In addition, the combined logistical channel will bring greater service levels to both of our customer bases.
The two companies overlap in Illinois, Wisconsin, Missouri, Kansas, and northern Indiana/Ohio. Since we cross over only with some carpet pad the companies are a perfect compliment to one another. The branch structure is pivotal to the CCS model and will be going forward also.
Q: What about products? Meaning is there the chance All Tile could carry a product CCS has that it didn't have prior to the acquisition and vice versa?
A: No. Each company will be truly independent. This is a permanent plan. Certain CCS facilities will be used for the convenience of our customers to pick up their orders. But All Tile products will be sold through All Tile, and CCS products will continue to be sold through CCS.
CCS has tremendous brand equity and is the dominant name in flooring supplies and carpet cushion, and we plan on leveraging that strength by maintaining the CCS name.
All Tile and CCS are both great at what they do. By having common ownership, both can benefit from scale and best practices. All Holdings is the new holding company that owns both All Tile and CCS. This is where direction is set for both companies and synergies can be found, such as in logistics, benefits and systems.
Q: Jeff Karsen, who founded CCS with his father in 1979, is reported to be staying on as the head of CCS. Is that true? And how will the company structure be set?
A: Yes, Jeff is staying on board. He will be keeping the same functionally and will have the responsibilities of president of CCS, reporting to me, as the CEO of CCS. My title of president and CEO of All Tile will remain along with my current functions.
Q: Is All Holdings in a buying mode? Or was this just one of those opportunities that came along and you couldn't pass it up?
A: This is plenty to chew on for a while. CCS and All Tile are perfect complimentary companies. The combined companies allow All Holdings to compete above the floor as well as below the floor.
There is plenty to do in our respective marketplaces to keep us busy. Our goal is to service our customers and grow our business. We also have a job to do for the manufacturers that we represent, which is to service our areas of responsibility the best that we can.
That being said, if opportunities present themselves that will make the companies stronger, they will be explored.
Q: In just the first quarter of 2014 we've seen two major purchases within the distribution ranks. Do you see more of this happening? That is, do you see the rise of what is becoming the "super" or dominant distributor compared to the small, local wholesaler?
A: This acquisition is not revolutionary. It is more evolutionary. Many supply distributors have added flooring. Many flooring distributors have added supplies.
Jeff Karsen and his team grew CCS both organically and through acquisition as a supply and cushion distributor. All Tile was able to grow in the same way.
By adding a strong regional supply distributor to a strong regional flooring distributor, All Holdings is now a very strong regional flooring supplier for the long term. Both companies have similar philosophies with regard to going to market, and they will continue.
It is a tough market out there. If we are to continue to remain in business, we have to supply products and services to our dealer base that allows them to compete against anyone that sells flooring. To that end, it is essential that both All Tile and CCS be able to provide our customer bases with products and systems that will allow for that. By increasing size, we will be able to refine systems and lower the ultimate cost to market, which will benefit our customers as well as our suppliers.
Dal-Tile Building New U.S. Facility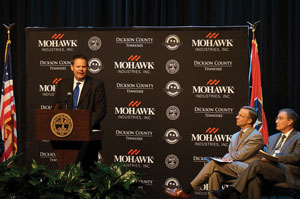 John Turner Jr., president of Dal-Tile, discusses the company's plans to build a new factory and distribution center in Dickson, Tenn.
Dickson, Tenn.—At press time, the industry's largest manufacturer and marketer of tile and natural stone products announced it was growing its presence even more in North America. Dal-Tile, which is a business unit of Mohawk Industries, announced plans to build a glazed porcelain and colorbody tile manufacturing plant and distribution center in this community, which is located near Nashville.
John Turner Jr. Dal-Tile's president, said at a news conference in Dickson, the 1.4 million-square-foot plant is scheduled to open in late 2015 and will be the company's 11th manufacturing facility in North America.
He said the plant will utilize the latest advanced decoration technology, including Dal-Tile's Reveal Imaging capability, "to produce innovative and stylish ceramic tile products." The plant will also have the flexibility to produce larger format and plank format tiles marketed through its five brands in North America—Daltile, American Olean, Marazzi, Ragno and Mohawk—which are sold through Dal-Tile's three primary distribution channels—home centers, independent distributors and company-owned stores.
Turner added the new facility will have glazed porcelain capabilities, as well as technology "to meet the need of the commercial market through technical color body products, plus in-line rectification and polishing to meet market requirements."
For more information, call (800) 933-8453 or visit dal-tile.com.
Mirage Helps Consumers Save in Style
Saint-Goeorges, Quebec, Canada—Consumers can get 50-cents per square foot rebate on all Mirage hardwood floors during the company's Spring Rebate Sale which runs through May 24 at nearly 2,300 participating North American dealers.
The offer is valid on all colors, widths and species of Mirage Classic, Engineered and Lock products.
"Spring is a popular season for residential renovation and construction, so this event comes at a perfect time. Thanks to the 50 cents per square foot rebate offered on all our flooring during this sales event, it is the perfect time to save big while enjoying the quality for which Mirage floors are known," said Luc Robitaille, vice president of marketing for Boa-Franc, manufacturer of the Mirage brand.
For more information, call (418) 227-1181 or visit miragefloors.com.
Measure on the Fly with MeasureSquare
Pasadena, Calif.—Retail salespeople can now "measure on the fly" with Measure Square's new easy to use flooring layout and estimating app for iPhones and iPads, said Steven Wang, chief developer and founder of Measure Square.
"From measurement to quote, retailers, multi-family flooring contractors and flooring installers can now conveniently access and store data on the cloud-based app," he noted.
Wang explained, once measurements are drawn—with just the tip of a finger—MeasureSquare has the ability to "estimate the sales amount on the fly and generate a quote to email customers on the spot."
The new mobile app can be purchased on demand with a small monthly subscription. For more information, call (626) 683-9188 or visit measuresquare.com/mobile.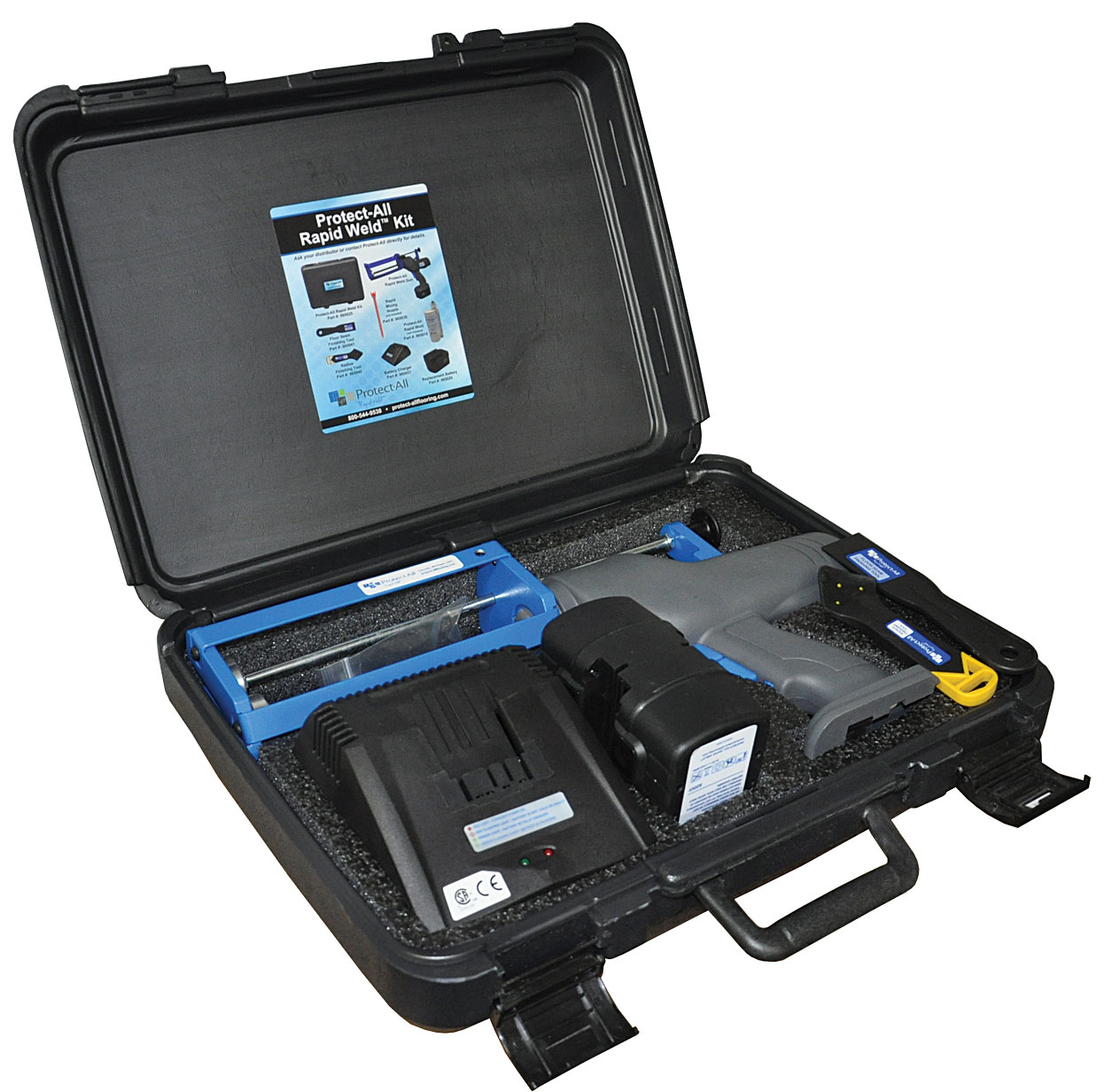 Protect-All's new Rapid Weld utilizes a chemical welding process that significantly reduces installation time and costs.
Protect-All's Rapid Weld Reduces Time, Labor
Oscoda, Mich.—Protect-All's new Rapid Weld delivers a waterproof solution designed to support a range of rigorous tasks.
Jerry Lee, sales manager, said by utilizing a chemical welding process that dries fast and enables installation and welding on the same day, Rapid Weld "significantly" reduces installation labor.
"Protect-All Rapid Weld provides a competitive cost advantage over traditional heat welding by reducing installation time and the amount of required labor," he explained.
In addition to saving installation labor and time, this new method can reduce flooring seams by up to 80%, Lee noted. "With fewer seems, Rapid Weld eliminates the need for regular, costly re-grouting."
For more information, call(800) 544-9538 or visit protect-allflooring.com.
Industry News: In Memoriam
Richard Brian
Southern Pines, N.C.—Hardwood flooring industry veteran and former Floor Trendscolumnist Richard Brian died at his home here following a brief battle with cancer. He was 66.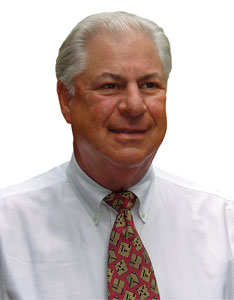 Richard Brian
Brian was past board member of the National Wood Flooring Association (NWFA), Maple Flooring Manufacturers Association and NOFMA - The Wood Flooring Manufacturers Association, among others. He also held positions as vice president of marketing, COO and president of wood manufacturer Robbins. Shortly after Robbins was acquired by Triangle Pacific Corp. in 1997, Brian established R.B. Brian & Associates, a consulting firm for the hardwood flooring and building products industries. (Editor's note: in 1998 Triangle Pacific and the Robbins brand were purchased by Armstrong)
Brian is survived by his wife of 23 years, J. Sharon (Cropper) Brian; two sons, Richard of Toledo, Ohio, and John Robert Prather (Christine) of Florence, Ky.; one daughter, Jill Suzanne Prather of Montgomery, Ohio; two brothers, Gary (Victoria) of Ohio, and Barry (Debbie) of New Jersey; two sisters, Janet Woods Brian, and Suzanne Brian White (Jeff) from Ohio; and close cousin Bruce Markowitz of New Jersey; as well as 12 grandchildren.
In lieu of flowers, donations can be made to the The Lustgarten Foundation for Pancreatic Research, 1111 Stewart Ave., Bethpage, N.Y. 11714.
Michael Halebian
Englewood Cliffs, N.J.—Michael Halebian Sr., who helped build the well-respected East Coast distributor bearing his name, passed away at the age of 90.
Born in New York City, Halebian grew up in the Bronx and graduated from the High School of Commerce. After graduating, he was employed by the Norden Co., manufacturer of the Norden bombsight, until enlisting in the U.S. Army during World War II, where he served in Europe and fought in the Battle of the Bulge.
After the war, he acquired his uncle's Oriental rug supply business and built it into a nationally recognized floor covering distributor. Known in the industry as "Big Mike," he continued working until recently. The company is now headed by his son Michael Jr., the third generation of Halebians to run the family business.
Michael Jr. noted with three locations, the company continues to inspire confidence with creative solutions for every flooring challenge. "Backed by our investments in education and technology, product knowledge and training, Michael Halebian & Co., continually reinvents itself to meet and exceed the changing needs of the flooring market. Most importantly, the seeds of the business sown back in 1931—quality, integrity, value—remain the principles that guide us today and will carry us into the future."
Halebian is survived by his wife of 64 years, Katherine, their children John (Lisa), Michael Jr., Carol and Edward; grandchildren Samantha and Jackson, and sister Alice Bendian.
In lieu of flowers, the family requests donations be made to St. Leon Armenian Church, 12-61 Saddle River Rd., Fair Lawn, N.J. 07410.
William Bane
Indianapolis—William Francis Bane, founder and innovator of the Bane-Clene carpet cleaning system, passed away after a brief battle with cancer. He was 86.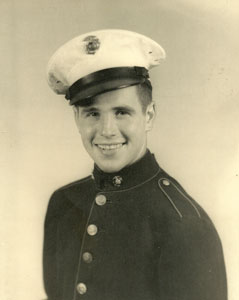 William Francis Bane
Born June 25, 1927, he graduated from Cathedral High School, and then enlisted in the Marine Corps during World War II. Bane also volunteered and participated in the Korean conflict.
Bane started The Wm. F. Bane Co. in 1962 after seeing a need for janitorial services in his community. The company grew and in 1967 added a commercial and residential carpet cleaning division. Recognizing the success of this aspect of his business, Bane divested the janitorial service division and focused entirely on carpet cleaning.
His entrepreneurial spirit and innovation led him to produce the truck mounted carpet cleaning machine in 1970, for which he later received a patent. In 1974 Bane-Clene Systems was launched, focusing on the production and sale of carpet cleaning equipment, chemicals and supplies. The service and supply divisions were incorporated into one entity, Bane-Clene Corp. in 1980. He was still active as board chairman when he passed.
William Bane Jr., president of the company, said his father "left an amazing legacy for those that follow him. Whether in private, professional, or civic endeavors, he was a successful leader with vision and motivation to follow through on his dreams. He will be greatly missed by the thousands of friends, associates and acquaintances he leaves behind, but most of all by his dedicated family who has remained with him throughout his prominent life."
Bane was an active civic leader and lifelong resident of Indianapolis, including commander of American Legion Post #3.
Bane is survived by Elizabeth, his spouse of 67 years; sons Bane Jr. (Denise Pettigrew), Donald Allen (Linda Faye), several grandchildren and great grandchildren.
In lieu of flowers the family requests contributions be made to the St. Augustine's Little Sisters of the Poor, 2345 West 86th St. Indianapolis, Ind., 46260.