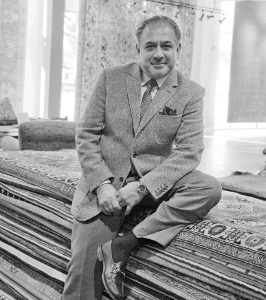 Mahmud Jafri, CEO of Dover Rug & Home.
Dover Rug & Home is preparing to participate in two upcoming Boston- based clutlural events this month. 
As part of  ArtWeek Boston, a celebration of the arts, culture, and creative communities, Dover Rug & Home will host "From Floors to Walls – Everything you need to know about buying fine art & fine rugs" on Monday, April 28, 6:00 p.m. - 8:30 p.m. at American Islamic Congress (AIC) - 38 Newbury Street, Suite 702 in Boston. Mahmud Jafri, CEO of Dover Rug & Home and Jacqui Becker of Jacqueline Becker Fine Arts Consulting Services will demystify the art of decorating with both fine art and fine rugs. Guests will learn what drives the prices of these pieces and how to make an educated investment in artwork and rugs that will last a lifetime. Vignettes of exquisite carpets and fine art will be on display in classic, traditional, contemporary and transitional styles to further illustrate the discussion.
Next, Jafri will join a group of speakers for the 2014 TEDxFenway—an independently organized event licensed by TED (Technology, Entertainment, Design) on Tuesday, April 29, 11:00 a.m. to 5:00 p.m. The event, which will explore the influence of "grit" in shaping some of the most foremost cultural, medical, social, and entrepreneurial ideas and practices in Boston, will be held in the historic Landmark Center in Boston.  Jafri will share the inherent necessity of strength in character in motivating novel initiatives.