Now that states and businesses are beginning to open up, you need to take a close look at what opportunities are out there for the future of your store, your employees and your community.
While many argue that there will be pent-up demand for residential business, I think that might be a ways off yet. It's true that we've all been forced to spend more time at home and that could help drive flooring sales in the short-term, but I suspect those opportunities will be limited. The good news is that the long-term outlook for the housing market is a positive one, which is something we can all look forward to.
Commercial business, on the other hand, may just be the opportunity you're looking for right now as well as for the longer term. I've seen a lot of specialty retailers getting into the commercial market in response to growing competition and a desire to expand their home market penetration. Makes sense. If you're not already doing it, you should. That may be even more important today than ever. As we recover from the pandemic, the Main Street market is likely the first to move forward as businesses around the country open back up and restart the economy. In today's environment, this may be your first and best shot.
Main Street sales are literally right around the corner from your store. Like you, these owners also want to get back to work and they'd like to support local businesses when they can. Go out and see them, show them your support and let them know that when the time comes for new flooring, you're there for them with the right product, great customer service, fair pricing and maybe some creative financing options. Not only will a personal visit be a strong showing of solidarity (something we can all use right now), you'll be able to see for yourself what their needs are. Armed with insights into those needs and the kinds of products and styling options that would appeal to them may just be what it takes to win their business today and tomorrow. Some accounts you'll pick up right away, beauty parlors, restaurants and more, will want to put on a fresh face for returning customers. For those who need to wait, walk over and drop off some samples. No pressure sales tactics needed, just an honest and sincere effort to serve their needs and a clear understanding of what those needs are.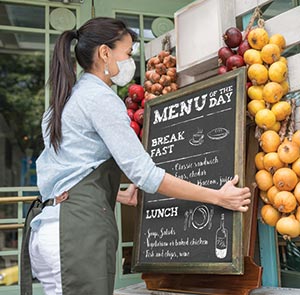 Most of you (and your staff) already support local merchants in one way or another, often through your own purchases. Whether it's lunch at the deli, staff pizza parties, your weekly order of Monday morning bagels and donuts for your sales meeting, banking, etc. These folks already know you and your team. It may sound obvious, but let them know you're there for them to serve their flooring needs. Chances are your top salespeople have forged those connections for their sales pipelines, but if not, encourage them to do so and perhaps you can even sweeten the pot with discounts they can offer to local merchants.
Flooring remains a people-to-people business no matter how many tweets, posts, or ads inundate the market. Don't lose sight of that important dimension. In the case of the tremendous health and economic threat we are facing, this may be more important than ever.
There's another dimension to the success you build on Main Street: Full-blown commercial work. Once your staff has gotten comfortable selling these types of Main Street products, you may want to consider expanding your product offering of commercial-grade goods. If you do, you might find yourself particularly well suited to the growth we're about to see in not only home offices but in remote and smaller work environments that are likely to sprout up in place of large, more traditional office spaces. Those smaller spaces are perfectly suited for your business if you build today the competencies you'll need to succeed in the commercial market.
Today, Main Street. Tomorrow, new housing and home office. One day soon, full-blown commercial. Hopefully, that will be your path not just for survival, but for future success.

Online Retailing
This pandemic has also hit the fast forward button for online shopping.
Most flooring retail websites have acted as showcases–a place where customers can look and learn about flooring. That's not going to be enough going forward.
Instead, your online presence has to include pricing, quick response, possibly even financing options. Yes, you'll still want to showcase products as well as the measures you're taking post pandemic to assure the health and safety of your customers (and employees), but you're also going to need to transfer as much of the shopping cycle online as possible.
I should be able to go to your website, identify some of the products that I'm interested in, compare prices, reach out to your salespeople, maybe schedule a shop-at-home or in-store visit, and maybe after all that is done, finalize the sale from home if I choose. Can your website do all of that? Maybe it should. Maybe it must.