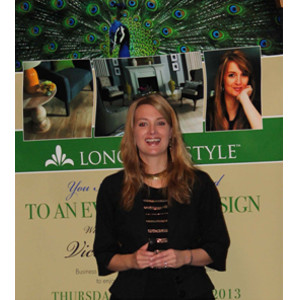 Quick•Step's Speaker- International Trend Forecaster, Victoria Redshaw
As part of Quick•Step's "Long Live Style" campaign, International Trend Forecaster Victoria Redshaw presented "Key Trends For 2014 & Beyond" during a free seminar recently held at retailer
Nonn's Design Showplace in Madison, Wisconsin. The event was attended by over 200 of this dealer's customers, local industry professionals, and local interior design students.
"Nonn's is one of Quick•Step's most design savvy dealers, so they were the perfect venue for our most recent 'Long Live Style' design seminar," said Paij Thorn-Brooks, vice president of brand marketing for Unilin, Quick•Step's parent company. "Our Quick•Step brand excels at serving our retail partners by taking a superior product line and wrapping it in a comprehensive merchandising program. Bringing this expert insight on upcoming design trends, styles, colors, and fabrics to Nonn's customers is just one aspect of Quick•Step's comprehensive marketing support." "At Nonn's, we are focused on providing customers with overall design expertise at no extra charge when they purchase flooring in one of our showrooms," said Adam Nonn, president of Nonn's Design Showplace. "Each and every one of our in-store sales reps is a 'professional interior designer' before they are hired to join our sales team. This free design advice is a tremendous added-value perk and also ensures that the customer selects the right flooring for their need, while keeping the larger design perspective in mind. Quick•Step's 'Long Live Style' seminar fits hand-in-glove with what our store is all about offering to our customers!"
Quick•Step's speaker Victoria Redshaw is the lead trend forecaster and managing director of Scarlet Opus Limited, an international Trend Forecasting agency. Redshaw works directly with manufacturers, retailers, interior designers, and media — specifically those involved in the interior sector — to provide information on the colors, patterns, materials, shapes, products, and styling that will be desired by consumers in the near future.
Quick•Step flooring is widely known in the industry as the design and style leader in laminate flooring, offering consumers flooring that is both beautiful and durable.
Design Showplace is Wisconsin's largest flooring retailer and is currently ranked as #34 among the nation's top 75 flooring retailers.