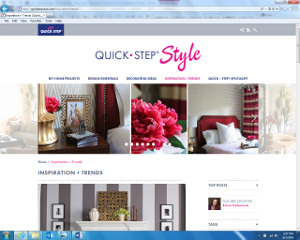 Quick•Step has launched a style and design blog site for consumers.
Quick•Step recently launched a blog site that connects with consumers and further solidifies the brand's "Style & Design" identity, according to the company.
"Our brand is committed to staying at the forefront of innovative, tech-based merchandising to help Quick•Step creatively connect with consumers and drive the right kind of traffic into our retailers' stores," said Paij Thorn-Brooks, vice president of brand marketing for Unilin, Quick•Step's parent company. "Our new Quick•Step Style blog site provides consumers with an engaging, high-quality blog experience that continuously offers fresh, professional decorating tips; professional design instruction; and photo-rich style inspiration."
"Our blog is all about style and design," added Thorn-Brooks. "It is not a hard sell of Quick•Step flooring, but rather a truly useful interior design tool that offers consumers a myriad of helpful hints and decorating instruction. Our goal is that our blog becomes a 'go-to' site for those seeking inspiration, ideas and sound design advice. Also, many of the illustrative room scene photos found on the site feature Quick•Step flooring. An article on 'How to perfectly hang a collection of frames on your living room wall' uses a Quick•Step product room scene to illustrate the decorating lesson at hand. A picture is worth a thousand words, so having consumers continually interacting with our Quick•Step room scene and product photography familiarizes them with the beauty of our fashion-driven product line."
According to Thorn-Brooks, today's flooring industry includes many more channels than the traditional retail landscape that was historically dominated by the specialty retailer. Today's sales channels include home centers, warehouse clubs, lumber yards, wholetailers, shop at home and DIY, in addition to the specialty retailer.
"The task at hand for specialty retailers is to evaluate how they have historically done business in the traditional retail environment and make the necessary changes in their sales approach to maximize success in today's market landscape," she said. "Today's wise retailer should excel at providing personalized service before, during and after the sale. This superior customer service should include style and design assistance. Our new Style blog supports our retailers' efforts to excel at this type of customer service, by becoming a resource for their customers that not only lends credibility to the stores associated with it, but reinforces the awareness that Quick•Step is a fashion-driven product line, on pace with the latest trends in home decorating."
According to Thorn-Brooks, the site includes the Quick•Step design guide, DIY home projects, design essentials, decorating ideas, inspiration and trends and Quick•Step spotlight.
"The hallmark of our brand is 'a quality product that is as stylish as it is durable,'" added Thorn-Brooks. "At Quick•Step, we pride ourselves on being the first to market with the latest styles and hottest flooring trends. Having a design-centric blog presence is a natural extension of our philosophy and brand identity."
For more information, visit quickstepstyle.com.