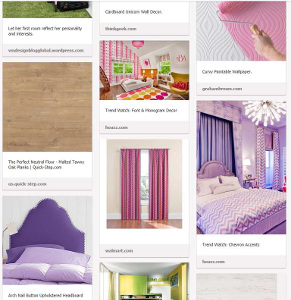 Quick•Step's Pinterest account provides decorating ideas and design inspiration. 
Quick•Step is making successful connections with thousands of consumers through the social media arm of the its robust digital marketing program, according to the company.
"To be successful in today's marketplace, a brand's marketing program must always include an effective social media component," said Paij Thorn-Brooks, vice president of brand marketing for Unilin, Quick•Step's parent company. "Innovative brands like Quick•Step are capitalizing on this opportunity to reach consumers in a new way. Brand promotion through social media is not only effective, but in most cases it's also an economical marketing tool.
According to Thorn-Brooks, as part of the company's comprehensive digital marketing program, Quick•Step uses social media to increase overall brand awareness, reach a large number of consumers with a specific message in a timely manner, and motivate consumers to positively respond to a call-to-action. An additional and very important benefit is that social media taps into many consumers' need for validation. A large number of consumers are highly influenced by the endorsement of an "expert," such as Quick•Step's celebrity designer, Erinn Valencich who is prominently featured in its social media endeavors, when considering the purchase of a product or service. Also, many people want to canvass the opinions and approval of their own family and friends when considering a major purchase, such as the addition of flooring to their home.
"Creating buzz around a brand and solidifying the brand's unique identity are two important things that Quick•Step is effectively achieving through social media," said Thorn-Brooks. Two of the key social media vehicles Quick•Step employs are Facebook and Twitter.
Quick•Step also gets creative with its use of Facebook to most effectively engage consumers. The brand's creative uses of this particular social media forum include conducting contests, promoting and driving traffic to Quick•Step retail and interior design events, and sharing professional instruction from Valencich.
Via Pinterest and Houzz, consumers will find inspiration through Quick•Step's photography. Decorating ideas abound for living rooms, dining rooms, bedrooms, and hallways to name a few. Lots of colors, textures, designs, and ideas to inspire decorating anything from a mountain cabin to a little girl's room to a couple's first home—all for the ultimate purpose of increasing the brand's "Style & Design" identity and piquing consumers' interest in Quick•Step, according to the company.
The brand's social media reach extends to YouTube where consumers can find Quick•Step videos ranging from how to successfully install a floor to an inspiring collection of lessons on the latest in home design trends from Quick•Step's celebrity designer partner. 
"Whether the particular forum is Facebook, Twitter, Pinterest, Houzz or YouTube, all our social media efforts come back to supporting one main goal—helping our Quick•Step retailers make more money for their stores and their staff, by selling more Quick•Step product," added Thorn-Brooks.
For more information, visit us.quickstep.com.