Todd Saunders, the CEO of Broadlume, is a mover and shaker in the flooring industry. His company has netted a series of industry acquisitions, including FloorForce, Creating Your Space, Retail Lead Management, RollMaster, and the most recent: BanaBoom. We had the opportunity to learn more about how Brodlume will use these technologies to improve independent flooring retailers' businesses. The following are excerpts of this conversation, which you can listen to in its entirety below. 

TF: Todd, you recently announced the acquisition of BanaBoom, talk about them and the rationale behind that acquisition. 
Saunders: We are excited to acquire BanaBoom for three main reasons. The first one is the technology side. They have an unbelievable underlying technology. I think it's best-in-class in the industry—it's all been built over the last three years, and it's all cloud-based, it's just no one has heard of them.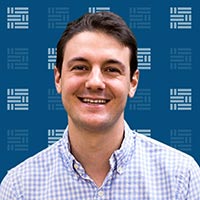 The second thing, also important to us, is security. Our industry does not take security nearly as seriously as it should. We talk to retailers that want to sell their businesses. When they set out to sell, they need to do so with a system complete with customer and historical records. One security breach and everything valuable to the business over the past 30 years can be gone. We're trying to take security up a level and the cloud, and the technology is another reason why we acquired BanaBoom. 
The third reason is the component of bringing on Josh Pendergrass, CTO and founder of BanaBoom. There are very few people that are great engineers and also flooring retailers, Josh might be the only one. Bringing Josh into the company to help us build Broadlume flooring software and Broadlume ERP, which is a combination of RollMaster and BanaBoom features. 

TF: Tell us about Josh Pendergrass. 
Saunders: Josh ran carpet stores in Arizona. He was frustrated by the available flooring industry software. We acquired RollMaster, which did include some frustrating elements, but we acquired it because we felt we can make it better. The acquisition of BanaBoom continues down that path to make it better. Having Josh as another voice around the table will help us build out more features and functionality and will be super helpful for us going forward. 

TF: Talk about how RollMaster and BanaBoom complement each other. 
Saunders: They do complement each other, and solve retail issues such as inventory management, reporting, accounting, bar and QR coding, showroom pricing, job costing—basically areas to help retailers streamline their businesses. 
We are investing a great deal of money—up to $20 million in our software of the future—taking the best parts of RollMaster and BanaBoom and building a single integrated solution, which we will launch as a new flooring software, probably called Broadlume Flooring Software. The first people we're taking care of in this transition are RollMaster customers, and the backend for them will not change. We are focusing on making transitions easy, providing early access to all the new features, and we will start onboarding new customers from there.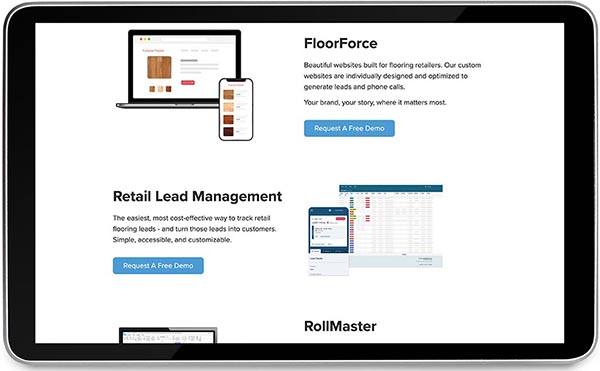 TF: I suspect most see offering tools that are in the cloud as an advantage for a retailer, not having to maintain a server and the costs that go along with it—talk about the additional advantages. 
Saunders: When we refer to the cloud, we really mean servers protected and run by AWS or Amazon. That's one point. The second is security. All retailer's records, customers' records, personal data, and business records can be lost forever with one keystroke. Industry manufacturers have been cyber-attacked, and other industry software companies have also been cyber-attacked. It might not seem like a headache now, but when selling their businesses retailers, will realize a cost of 10% or 20% over the loss of important records. It's really a new form of terrorism, and everyone is vulnerable. 
Also, looking at how much of the industry's software, including ours, needs to be easier to use and easier to onboard. We feel it takes too long to get onboarded and set up. It's a prime reason why many retailers stay with QuickBooks or don't use software at all—because it's complicated and difficult to set up. 
A major portion of the simplification process will be simplifying onboarding and interfaces, making the system much more powerful to use. We want our software to be an Apple or Google-like experience where it's complex, yet very simple. You can learn to use an iPhone and not have all these extraneous buttons and interfaces. Our new software will be much easier to use and easier to get started. 

TF: I have the impression that many retailers are apprehensive about putting their data in the cloud, fearing who might have access to it. Is this a difficult hurdle to overcome? 
Saunders: That's an education area. Anyone using a browser is in the cloud. Basically, everything done online is in the cloud. The cloud is at this point a staple, what you need. 
I'm not saying you don't need backups of your records. Records can be backed up by retailers on their own server, although we perform backups of our cloud, so it's not necessary. I would say a bigger hurdle is not that retailers don't want to put their information in the cloud—the problem is what's involved in onboarding, the upfront costs, and time involved to get started. 

TF: Do you see a point where a retailer's website could also be added to this whole system?
Saunders: We're working on that right now, building one integrated system that all works well together—when a website talks to your CRM, your CRM talks to your flooring software, and your flooring software talks to your measuring software. 
It's also possible to truly track leads and attribution. A big thing for us is cost per lead. Being aware of the cost per lead is great, but we feel the conversation would be better focused on the cost per sale. What is it worth when someone lands on a retailer's website, and fills out a form, coming from Google? What are they worth in actual sales numbers? 
We feel it's important to push this industry forward understanding the cost per sale, not cost per lead. If the lead costs $500, but the retailers made a $10,000 sale, do you care? We want to get to a point where not only is there a unified system talking and communicating to [itself] to make it easy, but also providing retailers with the data that empowers them to run their business in a smarter way. 

TF: What about the manufacturing and the supply side of this business? Are they in a position where they are embracing cloud software? It seems many have relied on spreadsheets and performing tasks manually. Is that changing? 
Saunders: You will hear me beating the drum for B2B: the most important element to software in this industry. 
B2B is a unified format where manufacturers can give data to software companies and have it automatically transacted without spreadsheets. Inventory can be checked in real time, materials ordered in real time—all without telephone calls. Many manufacturers have adopted it, but it's a tough place. The problem the industry faces is getting everyone to get rid of spreadsheets and onto the cloud and B2B, and to level the playing field. As a software company, I'm saying we need to do this, or the industry will not move forward. 
We as a software provider have the most to lose by doing this because we are opening the door for other software companies to come into the industry building software and websites. That is possible because then they will be able to go to B2B, pull the information, and build software. A huge defensive element of the manufacturer sector is that they have all the data, and no one else can get it. It's nearly impossible. 
I'm okay giving up some of our defensive ability and leveling the playing field if it helps the industry move forward. Our belief is if we don't, the independent retailers may become extinct. The manufacturers will have pushed it in a different direction. 
Look at the box stores—they are all on B2B and software. We have to take a similar stand. And it's not just manufacturers—retailers will also have to be able to get on B2B and use software that can check inventory and pricing and perform job costing. That means getting on real flooring software. It's going to take a monumental effort on the part of manufacturers and retailers. What is needed is putting our short-term business interests aside for a minute, and realizing that doing this will level the playing field and help all of us to grow. That's really what is important. 

TF: FCB2B has been around for more than 20 years and it's amazing this hasn't happened before. Could it be that the manufacturers were not anxious for it to happen? 
Saunders: It takes all three parties. The manufacturing community can want it to happen, but the flooring software community also has to let it happen. And I'm grouping ourselves in there. 
There are however personal and company interests versus industry interests. How do you balance those? I am not trying to call anyone out. I am personally part of the problem, but we're being honest about it. Retailers and manufacturers need to be willing to use the software, or else B2B doesn't matter. Flooring software needs to allow it to happen, or else this doesn't matter. Unless all three of those sectors work together, we're never going to move forward, and we'll be the only industry on paper forever, causing market size to shrink very quickly. 

TF: Many have suggested that if manufacturers elected to give a discount for electronically placed orders, this would happen. 
Saunders: Such a move would save time, energy, and money. There would be no more phone calls checking inventory and placing orders and eliminating all the miscommunications and mistakes that go with it. There would be electronic records. Offering a discount is great, but the truth is in the cost savings. The efficiency savings would be massive. 
I think there has to be some education around it. And I'm willing to beat the drum. In this industry, for better or for worse, our business has been the poster child for change and for doing things that not everyone knows is true, and that no one necessarily wants to hear. 
I understand why, but we're going to start beating the drum. We need to be on B2B. We need software to get better. It will level the playing field for new people to come in, but that's okay because it will help push us all to the next level. We need this to happen. 

TF: Many people tell me that the flooring industry lags behind many other industries in terms of technology. Is this the case? 
Saunders: We are not even close to the speed of where box stores are in the industry. It's the difference between night and day presently. 
There are some great software packages pushing the way forward. But for this to work, we either need more software providers coming in to move the needle, or industry software groups to put their best interests, our short-term economic interests, aside and get together to help push the industry forward. 
There's too much "self" and a bit of a conflict. If you are running a sizable software business, making good money, or if you're a manufacturer doing the same, what incentive do you have to level the playing field and put the industry on B2B? You don't. I would argue that your kids, who software business will be passed on to, do have a vested interest. And the industry as a whole has a vested interest in it.  
What I see as a problem with the industry as a whole is that it has been done the same way for a long time. Then there are short-term business and personal interests, which goes against long-term viability and the interest of the industry. How do we balance the two?
I'm not advocating to swing it in the other direction. Obviously, businesses are designed to make money, but there is some middle ground here, or else we'll all go out of business.

TF: The last couple of times you appeared on TalkFloor was to talk about acquisitions. We talked this time about your most recent acquisition of BanaBoom. Along these same lines: any feel as to the next time we talk?
Saunders: It's not just software we're acquiring—we're also acquiring passionate people that want to change the industry.
If you were to ask BanaBoom's Josh Pendergrass, RollMaster's Dev O'Reilly, FloorForce's John Weller or Creating Your Space's Mike Vogel why they joined, they would say half of it was about the technology and their customers. But the other half had to do with securing passionate employees that are in the flooring space and see its problem. They want to leave a legacy and change business in the industry for the better. 
Half of the value for us is to get people around the table that have their relationships and want to make an imprint on this industry. So, when we look at acquisitions, we're not just looking at assets we're also looking at some of the best people in the flooring industry to come join us.
Listen to the full interview!