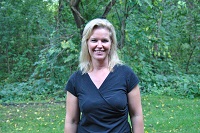 FCICA, the Flooring Contractors Association, is pleased to announce the appointment of Kelly Fuller as director of education, an essential role within the FCICA organization as well as the group's Installation Management Taskforce.

Fuller comes to FCICA with an extensive training background in curriculum development and teaching. She is a lifelong Michigan resident. Her father was a builder so she grew up in construction and worked in the office during her high school and college years. After college she earned her license as a veterinary technician and started a career with PVH/The Pet Practice.

As her career moved forward she transferred into a technical supervisor/office manager overseeing the technical staff and all the office responsibilities. Fuller has taught adult education for Clarkston Community Schools as well as coordinated a non-profit food pantry in her local community. She has developed the skills of overseeing education, including core research, curriculum development as well as testing, the FCICA noted.

"I am so glad that Kelly has joined FCICA and will help steer our Installation Management Taskforce," said Kim Oderkirk, executive vice president of FCICA. "With Kelly in place we will be able to accelerate our Certification Installation Manager Program. I look forward to working with Kelly on this certification and other future educational programs our membership desires."

For more information about FCICA, please contact the office toll free at (877) TO-FCICA or 248-661-5015, or visit the website at www.fcica.com.