In the past year my wife Anne and I have been taking steps to build a new home. This house will be built on a lot we own right next-door to our existing home overlooking Lake Loveland in Colorado. The reason I'm telling you this is the process of preparing to build our dream/retirement house has been a real eye opener in the way I understand what my buyers in flooring are going through.
Anne and I have owned numerous houses together including several rental homes as investments. But, this is our first venture building a new house from the ground up. To say the process is a real revelation in education is the understatement of my lifetime. Even though I thought I had a pretty good idea of the process because I've been working with builders for their flooring needs for almost 30 years now, I have to say my ignorance with much of the starting process really caught me off guard.
What we thought would take about six months in working with the city for permits, easements and pre bids has now taken just over a year. We also learned that building in an old, established neighborhood could be a bit more expensive than our guestimated budget. As it turns out the sewer main is about 190 feet away and we have to bore underground to get to it. So $20,000—after four bids—is now the new number for just that part of the project.
With any luck we will be breaking ground about the time you are reading this article.
From Ignorance To Understanding
One of the steps toward a final real cost budget was to go with our builder to a place he chose to select a window package. Never having bought new windows before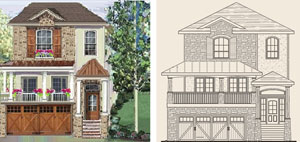 In going through the process of getting his dream/retirement home built, shown here in an artist rendering, Kramer not only became aware of the frustration buyers face, he managed to make his builder understand the importance of being prepared by giving clients the full presentation.
we found ourselves in a position of ignorance, much like many of my buyers when they enter my flooring showroom.
We met with the "salesman/ expert" and our builder in a conference room at the lumberyard, and the first thing the salesman did was to tell us he had not had a chance to look over our plans yet—but he would look at them later. So instantly he was now the ignorant one, which meant he had no chance of becoming our "Trusted Sales Adviser."
Pushing forward he brought out three window displays and gave a brief description of the low-end builder standard and a mid range line. Then he proceeded to tell us why we needed the high premium window system. Basically telling us not to be foolish with the first two qualities, and he even set the two lower-end displays under the table. So within about 10 minutes he was telling us he would bid the highest end window package.
At this point, I said to him, "Tell us the difference in cost on just one single profile window. What is the cost on low, medium and high end, so we can have just a small clue on what you have and have not shown us." Being a blind item to me I did not have a clue if this was going to run $5,000 or $15,000-plus for the package, and why waste his time and ours on a detailed price break down if it was above our needs and projected price allowance.
Then in politician like fashion he proceeded to do everything but answer the question on what the price comparison was. He simply re-explained the features—not benefits—of why we really needed the best. At that point, he was gone in the running for our business. But I said, go ahead and bid it that way.
After we left I told my wife, why not waste his time on a bid, he certainly wasted ours. Besides I wouldn't mind seeing what the Rolls Royce costs even if I'll never own one.
Eliminating Ignorance
Once we left the conference room our builder stayed with us to look at some other items at that builder's/lumberyard showroom. That's when I pulled him aside and had a very one-sided conversation about the meeting we had just suffered through.
My conversation went like this: "So do you have any clue what any of those three qualities of windows cost or why we would pick one quality over the other? This guy had not even looked at our plan or ever asked us questions on our circumstances. He had no clue if this was our starter home or if we wanted only 'the best.' Most people fall somewhere in the middle, but we never had that choice."
Then I explained to my builder my credentials that led to this critique and clarified what I thought should happen in a sales presentation like this. "If you brought your home buyer to me, I'd first want you go over the flooring layout blueprint and have you explain what areas were being done in advance of the homeowner's meeting. I'd also like to know what category/price range the home was and where it was located. That way I can see what the homes are like in that neighborhood—with a MapQuest type of view."
I continued by saying, "Now, when they come in I can first make friends and find common grounds with them. Next, go over their ideas, expectations and wish list they had envisioned. I would then go through product knowledge and give ballpark costs on low- to high-end products. By having their blueprint early I'll know very closely the approximate cost and I can give them it on the spot. With real knowledge and a feel for the buyer I can say, 'Here's a place to save a lot of money and here a place I would spend a little more.' With a good customer interview, education to eliminate ignorance, 'the full presentation' and close guestimation, I've given my new buyers all the reasons to make me their new Trusted Sales Advisor."
By the way, my builder is now bringing his new home and remodel buyers to me. Thanks for reading.
Based in Loveland, Colo., Kelly Kramer is an author, inventor and owner of Kelly's Carpet Wagon. He is a 27-year veteran of the flooring industry, with 25 of those years as a retail sales advisor. To contact him with questions or to book him for public speaking engagements, call or email:
(970) 622-0077