Back in 1996, my wife Anne and I were trying to move from Southern California to Loveland, Colo., where we currently live.
Our first task was to choose a realtor to sell our home. Next we set up appointments with two companies with which to have an initial talk/interview. The first of the two was a husband and wife couple. They were very professional looking and looked great on their billboards that were all over town. As they made their presentation in our home, we found them to be very sharp and very knowledgeable.
In fact we were so impressed with them we hired them on the spot; we then canceled the second realtor's interview, and just like that our shopping was over.
But one of the things I had asked the couple during the interview was if they would themselves actually show our home. I did this because I wanted a realtor who knew the area and had prospective buyers already in mind.
They assured us this was how they operated. In real estate you have selling agents and listing agents and some who do both. We wanted the ones who did both. Selling agents just show the homes, while listing agents specialize in just getting listings. These are the ones I now know are the professional interviewees.
After a few months of not seeing our home being shown by these two, I met a customer in my store who happened to be a realtor. So I asked him about this dynamic realtor couple we had hired. He gave a little laugh and said, "Those two have never shown a listing in their life. They are professional listing agents."
Now I was mad because I just realized how foolish they made my wife and I look. The problem was, we had a six-month contract with these realtors. That's when I took a page from all the Mafia movies I'd seen. I called the head broker from that agency and said, "I'm not happy with this arrangement." I pointed out we specifically asked these two if they were going to show our home and I had just found out they lied to us because we had now learned his two stars were known in town as dedicated listing agents only. To my surprise he quickly apologized and said he would let us out of this contract.
This was a huge lesson learned for me—especially because as a professional sales trainer myself, I had been fooled. But the best thing that came from the whole situation was I now understood the power and importance of a giving a great interview.
Everything is an
Interview
Whether you know it or not, every new prospective buyer who walks through your door is here to interview you and your company about doing a job in their home or business. Some salespeople think it's all about the "best price." Some think it's about all about "discrediting the competition." And, unfortunately, many think it's all about just "doing anything it takes to close the deal."
Well, that's the way sales clerks and salespeople think. A trusted sales advisor knows it's about impressing a prospective buyer with helpful knowledge and a true understanding that you want to do what is in the buyer's best behalf.
To get that trusted advisor status we have to earn it. That means we need to give a great interview that educates the buyer and makes her want to buy here—at your store.
Truth is, no one really wants to shop at more than one place. They simply feel it's a wise thing to do. They expect to run into deceptive and aggressive sales operations but our job, as a trusted sales advisor, is to prove to them they have not found one here.
Just recently, I had, for the first time in many years, a couple who studied their flooring purchase like they were making a life or death decision. They had already been to three other floor covering companies and had very detailed charts that covered comparative cost breakdowns, measured yardage/footage breakdowns from each in-home estimate they had already gotten, and even a breakdown on installation policies.
To be honest, my first instinct was to tell them we were not the store for them. Because I know from experience that people who don't trust anyone are surely a future problem if they actually do buy from you.
Starting from Scratch
Over the years, I've written often about starting from scratch with a customer who has shopped a great deal before she reaches your store. My advice then, as it is now, is to assume the knowledge the consumer has already gathered is most often bad or deceptive information.
So, instead of telling this couple we were not the store for them, I started out like they had never shopped before. Then I began to interview them about their situation and what they really wanted the outcome of this purchase to achieve.
The five Ws—Who, What, Why, When and Where—got answered. The product demonstrations were impressively done, if I do say so myself. And, I proved I had listened to everything they said by suggesting a product that not only fixed all their problems it hit their budget restrictions.
At the end I congratulated them on the most thorough study I had ever seen and reassured them they had done their due diligence. As you might guess, I gave the best interview and wrote quite a large order.
I did some quick math and figured out in my over 25 years as a retail sales advisor, I see several hundred prospective buyers a year, meaning I've given close to 10,000 interviews. That number is mind-boggling and I hope that I'm good at it by now. Being a trusted sales advisor means you understand every new potential buyer wants you to give a great interview.
But unlike the great interviewing realtors I got trapped with, we simply need to always be upfront, honest and ethical. Then always, always, always, do what is in the best interest of your buyers. In short, "Selling Clean," as that is what helps you make a living on referrals.
Thanks for reading.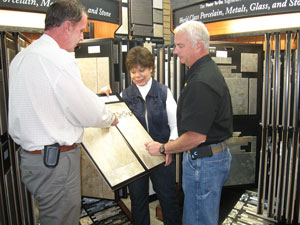 As someone who has conducted nearly 10,000 customer interviews in his career, Kelly Kramer, left, understands its importance in not only building trust with your customers but in ensuring you will help them find the right product for their lifestyle.