Throughout my flooring career as a retail sales advisor, store manager, mill rep, product knowledge training manual author, layout tool inventor and columnist I've always taken a deep interest in selling area rugs. Not to brag, well maybe a little, I've always out sold other sales advisors 3:1 when selling rugs at stores that offered a wide selection of them on hand.
Over the years I've sold for a Karastan store in Southern California, started programs for a few local rug binder and custom rug design companies, and trained classes on the structure, styles and how to sell rugs. So you might say I love area rugs. In fact, the two most interesting things I like to do in flooring sales is to design decorative tile back splashes in places such as bathrooms and entries, and selling medium- to high-end area rugs.
Both categories are usually higher profit sales but, most of all, I love what they do for a home's décor, design and elegance. When I sell the correct area rug(s) to my customer, I know I've made that person feel good about her home. Even better is that I know I will not only see that client again, but her friends as well. Finding a good designer at a retail outlet is rare and surely something buyers tell their friends about.
Commitment and Education
During my years selling floor covering I've done quite an extensive study on the history and structure of area rugs. Most of which was done so I could understand them myself, then explain it to my customers and along with my students in classes and in my training manuals. In my book, "Selling Clean in Retail Flooring," I even devote a couple of pages in the product knowledge section on the history of rugs to help make students more aware of them.
During every class I trained on selling rugs, I start out with a question for the class: "What is the best thing about selling a large area of hard surface instead of carpet?"
Hands immediately go up and I always get a few standard answers. The first—and most obvious answer—is, "The sale is about three times more than carpet would be." Next is, "The commission is much bigger." Then, "It can last for a lifetime."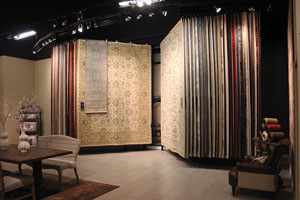 With hard surface flooring continuing to gain market share, Kramer said the time is not only right to sell soft decorative area rugs, such as those by Karastan, it's about 15 years overdue.
I then follow up with, "Those are all correct, but the best thing is, while the sales can range from a few to many thousands of dollars, you then get to sell them a couple grand more in area rugs to cover the hard surfaces up."
That part always gets a laugh and opens up some eyes. In fact after a few of my classes the store owners decided to make some extra room on their show floor for some nicer stocking rug display racks. This is no small decision to make for most retail stores. Rug racks can be large and take up a chunk of space. They take a commitment of dollars in buying the racks and samples and, in some systems backup stock.
Plus, let's face it, some stores sell mostly low budget flooring because of their store's location or niche they carved out in their market and they certainly should not waste time on medium to high quality rug sales. Their competition in rugs would be the low end products you would get from the big boxes and mass merchants.
By the way I can't tell you how impressed I am with just how nice those less expensive rugs look. The quality and designs are very good for what is considered today's lower end rugs. So you shouldn't waste your time selling that quality, because you can't beat that system.
But if you want to commit to medium- to high-end rugs, your store might be in a great position to take that step.
I should say the time is ripe for the picking. Back in the late 1960s to mid '70s when wall-to-wall carpet had become the norm, the average new home was built with about 80% soft (carpet) flooring with the rest being linoleum or other hard surfaces.
Skip ahead to the year 2000, when homes in the U.S. were not only getting much bigger and more expensive, a higher percentage of hard surface flooring—namely wood and tile—was being installed. At that time the average new home was about 60% soft surface and the rest had some type of hard surface.
Now, think back to about the year 2000. It was around that time when carpet manufacturers took a stand on the loss of market share of soft surface being lost over the last 30 to 40 years and decided to present their product in sales by the square foot instead of by the yard. They wanted an apples-to-apples comparison to show consumers installed carpet was, about on average, one-third the cost of hard surface installed.
The same stats are becoming more prevalent in home remodel as well, as broadloom represents less than 60% of the sales. Today more than ever, many of my buyers are replacing their soft living rooms, family rooms, home offices and even bedrooms with hard surfaces.
That is why the time is not only right to sell soft decorative rugs, it's about 15 years overdue.
Quality and Design
Back when I started selling area rugs, there were very few qualities in the middle price point. You had the very high-end hand loomed wools or silks, Persian or Oriental rugs. Or there was the low end that was very poorly printed, loosely stitched and constructed, as well as the old oval rag rope rugs.
But since that time I've seen huge advances in the qualities and design of middle to high medium rugs.
Today is ripe with numerous makers of medium- to high-end quality made rugs with fantastic design choices. So take a long hard look to see if you're in the position to invest in the space it takes, the dollars it takes and the education needed.
Don't do it if you can't commit to all three. But, if you can, remember it will take about a year—like most new lines take—and you'll then have something that other dealers in your town can't offer.
Plus, two other big positives: Repeat buyers are high in rugs, and the mark-up on them should be higher than almost any other product you sell. Thanks for reading.